Discover Loch Ness in every direction
Lets take you on a journey through a locals eyes, covering all the points of a compass in our destination and discover the gems you do not want to miss when visiting. Whilst we would always recommend exploring the Loch, including some Nessie hunting, there is so much more to Loch Ness than meets the eye!
Lets start with North Loch Ness
The A82 trunk road from Inverness to Fort Augustus hugs the famous loch along the length of its northern shore, giving a wonderful introduction for first-time visitors. But why not slow right down and set off by foot or on two wheels along the newly-opened Loch Ness 360 Trail? At 108 hilly miles it's not an easy route, but it is a sustainable and spectacular way to travel and experience the landscape and local hospitality, and there may be sections where you don't see another soul for miles.
Or take to the water for a fresh and more leisurely perspective. From start-points at Inverness, Dochgarroch, The Clansman Hotel and Fort Augustus, boat trips will take you out on the mighty loch for cruises lasting between 90-minutes and four hours; longer if you opt to stop off at the impressive ruin of Urquhart Castle - over 1000 years of Highland history in one stunning location. The exhibition alone will keep you engaged for hours… that's before we talk about the cakes in the café…
Leisurely boat trips available from Loch Ness By Jacobite, Cruise Loch Ness, Loch Ness Cruises
On the water you'll want to keep your eyes peeled for Nessie, but lift them skywards occasionally too – there is more than one pair of Ospreys who nest, hunt and raise their young close to the shores of the loch. Their white under-wings and monstrous wingspans are a breath-taking sight.
The village Drumnadrochit is home to Urquhart Castle, but it's also home to award-winning monster exhibitions, and that mine of local information, the Loch Ness Hub. If time permits, detour inland to Cannich, and from there along the peaceful Strath Glass to Beauly. This 'beau-lieu' – itself easily reached from Inverness by train - is a treasure trove of wonderful independent shops and cafes, and home to a 13th century Priory founded by French monks.
Fort Augustus sits at the western-most point of Loch Ness and its stairway of canal locks are an attraction in themselves. Good news, then, that there are walks and pubs and cafes along these locks – it's a place to linger, to marvel at Thomas Telford's beautifully engineered Caledonian Canal. Enjoy overnight luxury in the historic Lovat Hotel, or stay al fresco at the camp site – there are plenty of options in between. But whatever you do, don't miss the sunrise over the water.
Returning via South Loch Ness
Continue your journey around Loch Ness by heading back north-east along the south side of the loch. Here the roads are quieter, and the scenery even more dramatic. As you ascend the 9km climb to the viewpoint at Suidhe Chuimein, think of the thousands of cyclists who take part in the Etape Loch Ness every spring – will you be among their number next year? The race takes place on closed roads, but you might prefer to stay off-road on the South Loch Ness Trail, or to stick to the comfort of your car.
However you arrive there, you'll have earned your coffee and scones at Cameron's Tearoom, just south of Foyers. Part farm shop, part café, there's always a warm welcome, with a roaring log fire in winter. There are deer and Highland Cattle too!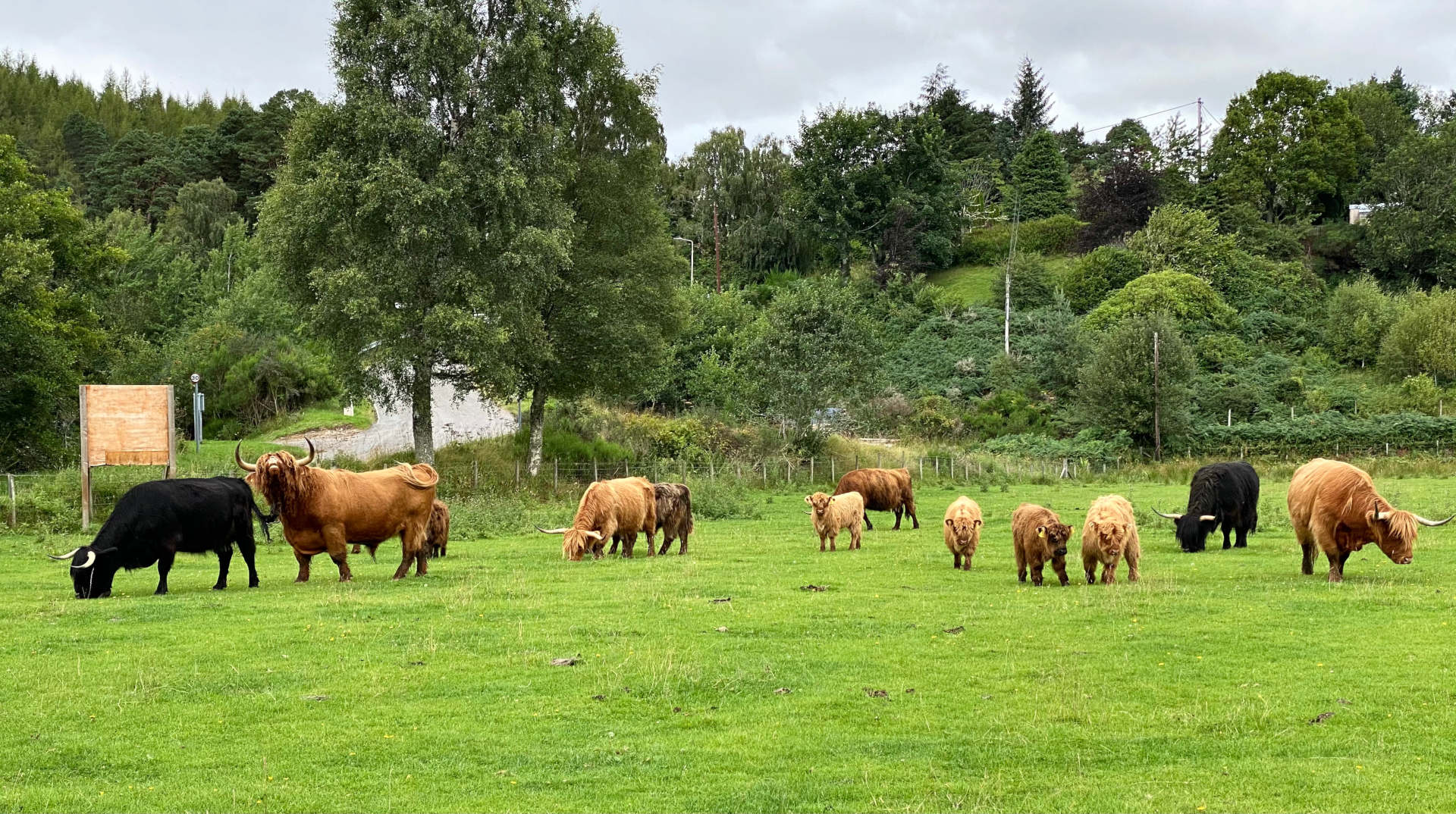 At Foyers, take time to marvel at the magnificent falls of Foyers, then drop to the water's edge - there's a campsite with lodges here too.
The next stop on the road back to Inverness is Inverfarigaig - the steep paths through squirrel-heavy forests give amazing vistas of the loch. But it's from Dores Beach that the iconic views are to be had. Savour a Loch Ness Gin on the terrace of Dores Inn while you watch the sunset on the water or the swimmers on the beach - they really are there all year round. Work up an appetite by exploring the paths through the woods.
If you are looking for a unique activity, why not enjoy a loch side trek with the local alpacas, yes you read that right! Loch Ness Alpacas can be found in between Foyers and Dores and the furry gang love visitors to trek with.
Need a memento or souvenir of your trip? When at Dores make sure to pop into Ness Gifts situated just beside the Dores Inn, a treasure trove of locally produced gifts and products can be found here
The City of Inverness
Inverness is a compact and friendly city. Head for Eden Court on the banks of the River Ness for the best theatre and cinema in the Highlands, then take to MacGregor's Bar, Tooth and Claw or Hootenanny for a dram and some live traditional music.
Flora MacDonald, immortalised on the Inverness Castle Esplanade, has one of the best views of the city - or she did, until a new viewpoint was built in the castle tower, no longer accessible until the Castle project is complete in 2025 but that will be a very exciting addition to Inverness!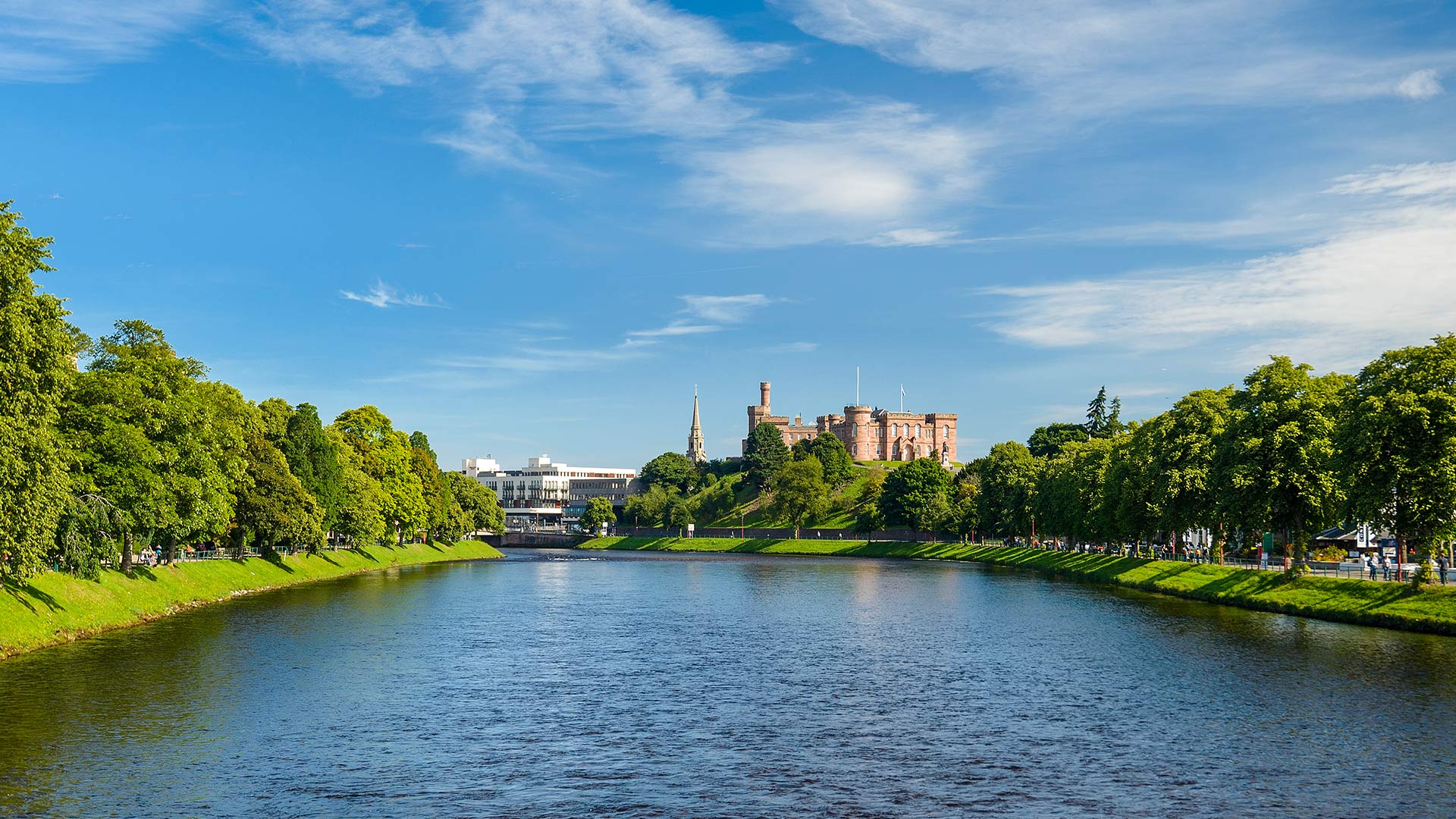 City Life
You can't miss the city's independent restaurants, cafes, bars and shops - everything from hand-made candles to cashmere, and original art to Harris Tweed. Inverness boasts one of the best tapas bars outside Spain - La Tortilla - and Rocpool by the river always hits the spot - if you can get a table!
Don't forget to leave time to explore Culloden Battlefield, site of the bloody last battle of the Jacobite era. You don't need to believe in ghosts to feel the history here - it hangs heavy in the air.
Battle of Culloden
Culloden saw a bloody massacre, with 1250 Jacobites and 50 Government troops losing their lives in under an hour. The Government's response to 1745-46 Rebellion was to build Fort George on a spit of land jutting into the Moray Firth. Ironically - perhaps happily - its sophisticated defences have never been tested. Fort George remains one of the mightiest artillery fortresses in the UK. Its mile-long ramparts are complete, and are a great vantage point from which to spot the Moray Firth's pods of bottle-nosed dolphins. The Fort's museum nestle amongst buildings which house a regular infantry battalion of the British Army, as while open to the public, it remains a working barracks.
East of Inverness
From Culloden, it's a short hop to Clava Cairns, a hugely significant group of three prehistoric burial cairns and standing stones in a beautiful woodland setting. There is a palpable sense of 'otherness' here. Fans of Diana Gabaldon's Outlander series will be thrilled to find a split rock here. Just don't go too close - who knows what might happen!
Clava Cairns have stood here for 4000 years. Nearby, but no less impressive, are the 120-year-old arches of the stunning Culloden viaduct, which carries the rail line south from Inverness. 29 vast arches span the floor of the River Nairn valley, making this this incredible structure the longest masonry viaduct in Scotland. It's well worth standing underneath one of the arches to appreciate its sheer scale and the magnificence of its engineering.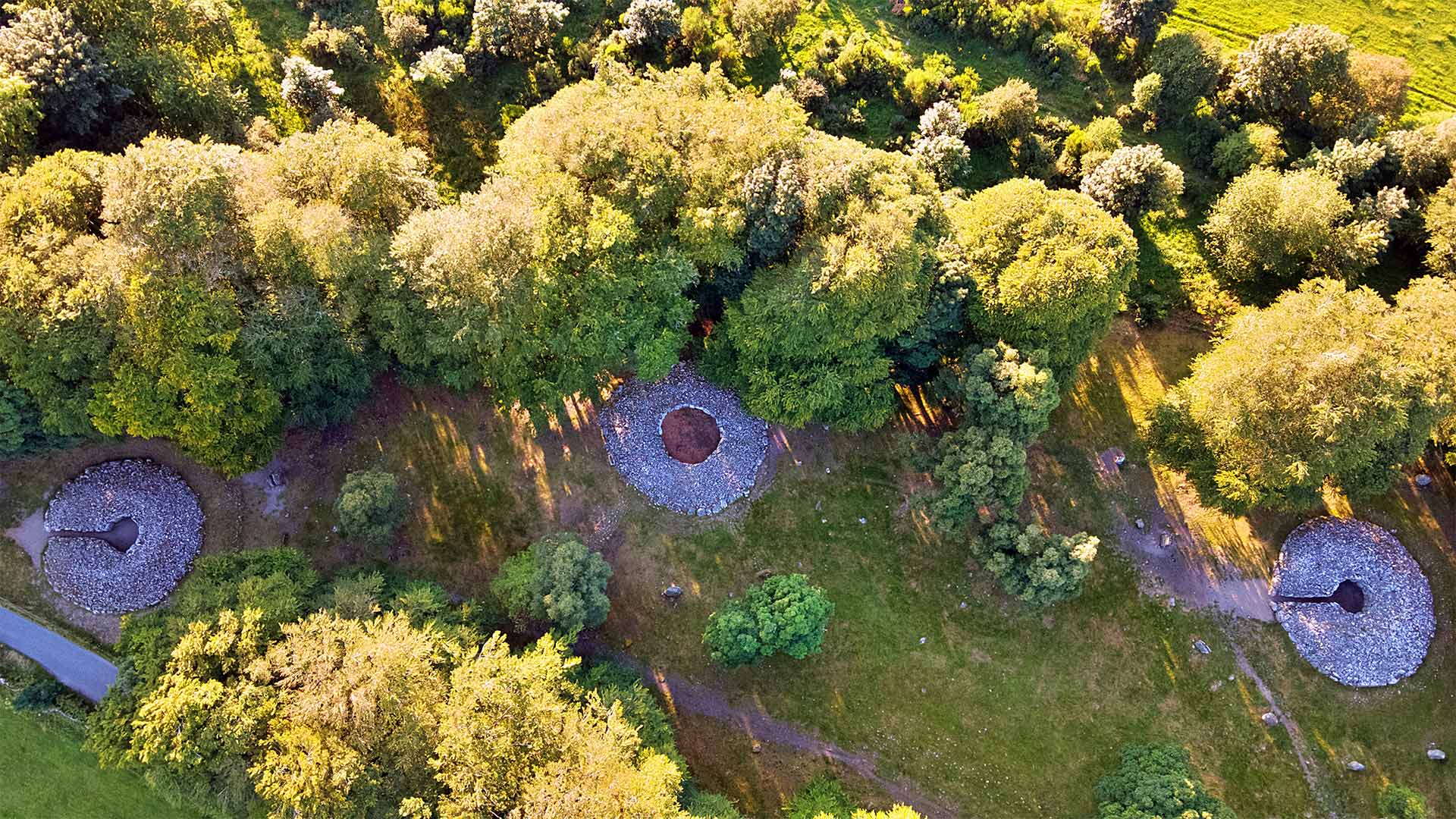 So, what are you waiting for?
The area around Inverness and Loch Ness is stunning - the photographs speak for themselves, and there is a vibrant and diverse range of outdoor and indoor activities to inspire, inform, delight and leave you hungry for more. But the real beauty is that there is room for us all – visitors and locals alike, to each discover our own slice of this part of the Highlands, and to feel that this is where we truly belong.
So come, stay, eat, enjoy and immerse yourself - responsibly - in our wonderful landscape. Tread lightly while you're here. It's been here for millennia and we want to make sure its history, beauty and majesty can be enjoyed for generations to come.
This discovery of Loch Ness was written by Inverness-based writer, broadcaster and life-coach Nicky Marr taking you on a journey through a locals eyes, an area that she knows like the back of her hand having lived, worked, raised a family and explored passionately over the last 25 years on foot, bike, motorhome and also in the water as a keen wild swimmer.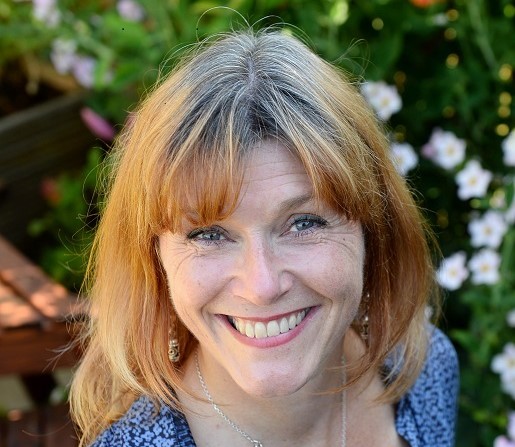 Discover more in and around Loch Ness and Inverness