Sustainable Tourism
Find out how Visit Inverness Loch Ness are championing sustainability and how you can ensure your trip to the region is as sustainable as possible.
Sustainable Tourism Scotland
Visit Inverness Loch Ness are proud to have become the first carbon-neutral Business Improvement district. Sustainability is at the core of our mission. Having signed the international agreements at COP26, the Glasgow Declaration of Climate Action in Tourism and Tourism Declares a Climate Emergency, we are focused on being carbon neutral.
We believe it is vital to protect the destination not only for the visitors, but for the locals living and working in and around the area for generations to come. Our work includes, what we can do as an organisation, what we can do to support our membership businesses and how we can support our visitors to include sustainability in our work, business and travel decisions and plans.
Our aim is to ensure all visitors to this part of the world have the tools and the information available to make sustainable choices that allow them to enjoy Inverness and Loch Ness while protecting our natural environment for future generations.
There are many ways to enjoy an environmentally friendly break, and travel does not need to be harmful. Taking public transport where possible, opting to walk or cycle instead of taking the car, leaving no trace when you visit the countryside, these are all relatively simple things we can do when we travel.
Eating and shopping locally and travelling off season are also ways to help local communities and spread the effects of visitors all year round and not just in the high season. Choosing environmentally friendly activities also helps, and there are tons of these to do in Inverness and Loch Ness. Look for Green Tourism accredited places and activities, these have been awarded special accreditation for their efforts in making Scotland more sustainable.
Visit Inverness Loch Ness go carbon neutral
We have achieved our carbon neutrality by teaming up with Trees for Life, a local rewilding charity on the banks of Loch Ness. We calculated our carbon and have offset our emissions by planting trees with Trees for Life at our corporate grove.
Visit Inverness Loch Ness Climate Action Plan
Thanks to help from Visit Scotland and the Travel Foundation, our climate action plan has been launched for 2022/23. As part of the plan a sustainability vision has been developed: It's not too late, we are the last generation able to do something to ensure our climate is safe for generations to come.
Working collaboratively with stakeholders across the destination we will ensure what we do going forward is in the best interests of our people, our visitors, and most importantly our environment.
To help celebrate the launch of the plan stakeholders from across the destination were invited to Dores Beach on Monday (6th June 2022) to create a Nessie shape coming out of Loch Ness, local MSP Kate Forbes held the climate action plan as the 'heart of Nessie'.
Read our climate action plans
Visit Inverness Loch Ness Climate action plan 2022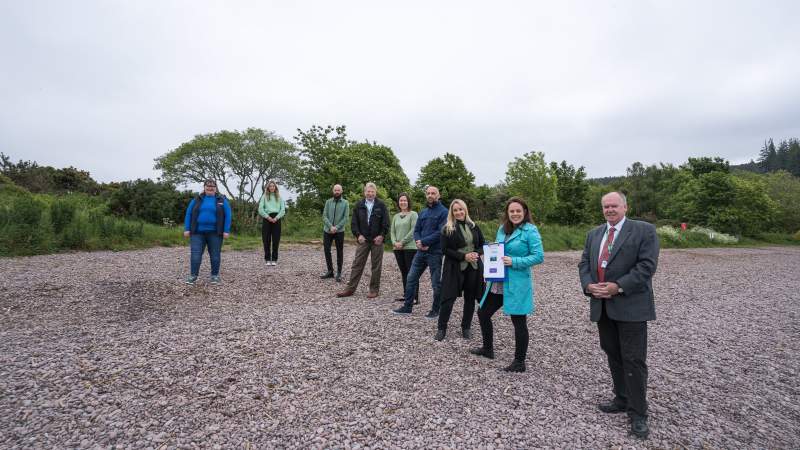 Fresh water top up scheme
Visitors to Inverness and Loch Ness can stay hydrated with beautiful fresh Highland water by filling up their water bottles with the fresh water top up scheme.
Businesses across the destination have opted in to become part of this eco-friendly, sustainable scheme to help reduce the use of plastic bottles.
Find out more on our Fresh Water Top Up Page