Cycling Inverness and Loch Ness
Cycling Inverness and Loch Ness
Back in 2019 Kev resigned from service as an Infantry Commissioned Officer to found 42Cycling. His dream is to transport you to the most stunning locations in the Highlands by bike, on-road, mountain or gravel track. He wants all of his visitors experience and see the very best that's on offer and believes Inverness is the epicentre and launchpad to loads of different cycling adventures, the Loch Ness 360 being a favourite!
Inverness is the Capital of the Highland region of Scotland. A super easy location to travel to with excellent air, rail and road links. Whilst it may look like a tiny dot on the map so far north, you will find a vibrant, friendly location to base from and explore the more remote regions of the Highlands of Scotland. Inverness is your launchpad to adventure.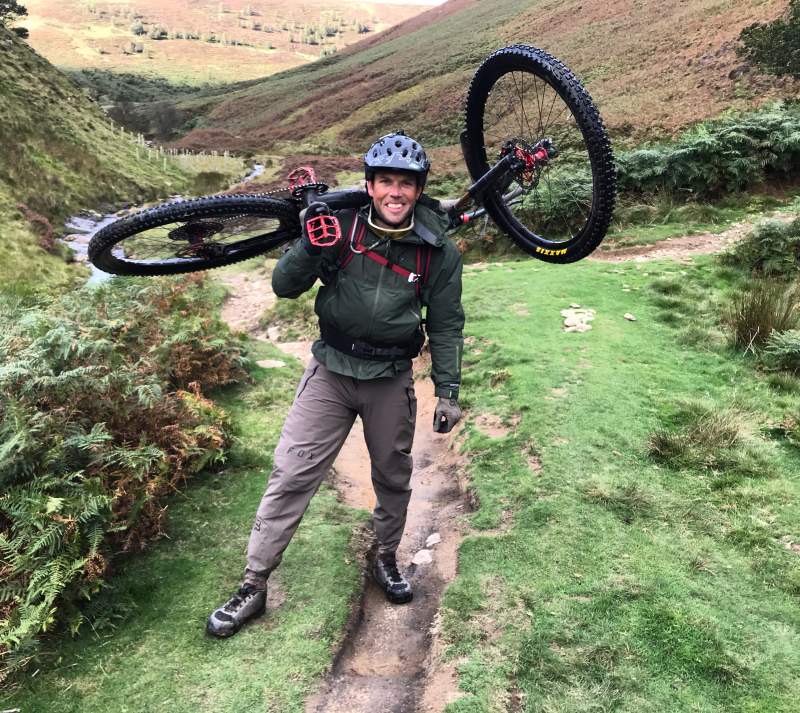 Road, mountain or gravel?
Cycling on offer around Inverness and Loch Ness is superb. The three main disciplines, road biking, mountain biking, and gravel biking, are exceptionally well catered for. Two and half minutes from the centre of Inverness, you will find yourself in the remote wilderness yet feel secure in the knowledge that you are but a stone's throw away from civilization. Loch Ness will no doubt feature heavily throughout your biking adventures, where you will always get a glimpse of a stunning view of the Loch at some point. Fantastic for your mind and soul whilst exercising your body.
Road traffic is distinctly low for the roadies amongst us compared to most of the United Kingdom. Once out of Inverness, you could go for miles without seeing another vehicle, obviously depending on the route you elect to take. One of the more popular routes on a road bike is a trip out to Foyers, heading South West along the mighty Loch Ness following General Wades Old Military Road*. Foyers is almost three-quarters of the way down the Loch and firmly on General Wade's road, approximately 20 miles from Inverness. Once you hit Dores, the road changes to primarily single track with passing places and little traffic. You will be royally treated throughout to spectacular views of the Loch on your right.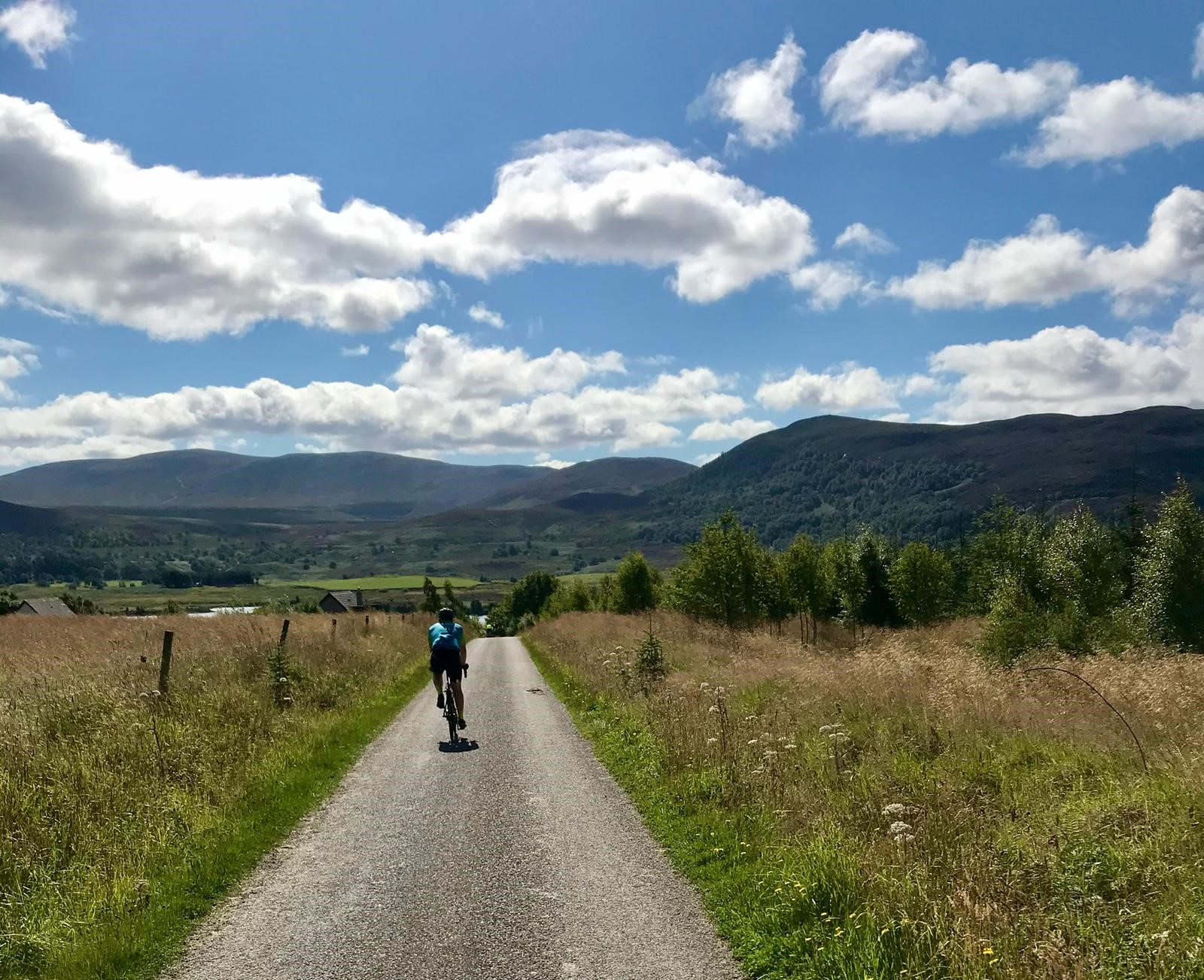 Cycling means cake!
A famous cake and coffee stop is Cameron's Tea Room. The Cafe is surrounded by Highland Coo's and even has a super friendly deer, which has become a pro at posing over your shoulder for selfies. The food on offer is superb and a well-deserved break before heading back to Inverness. The route back can return the same way or continue past Cameron's and Glenlia Farm, cycling up and over the hill past a country fire station location before turning left onto the B862 back into Inverness.

There are a few different route options to take on this route; the most popular and scenic will take you to Inverarnie. You will turn left and start a quite long considerable climb. However, the reward is stunning views over Inverness, seeing the Black Isle, Ben Wyvis, and the iconic Kessock Bridge over the Moray Firth. The total distance should you elect Foyers then Inverarnie is 42 Miles.
Inverness is a superb hub with several forestry commission graded trail centres, all within an hour's travel of the city for the down and dirty mountain bikers amongst us. Locations such as Learnie Red Rock, Contin, Balblair, Golspie, and punching further South to Aviemore, where there is a vast amount of natural and man-made trails to explore. All just a tad wilder than officially staffed trail centres found further South. However, numerous trail building groups in the Highlands do an excellent job maintaining and inspecting these trails with help and direction from Developing Mountain Biking in Scotland (DMBinS).
Should you wish to ride from your accommodation in Inverness, there are many MTB locations to visit. A popular place to visit is what is known as the Mast to local riders. A series of trails all starting at a telecommunications mast easily visible from the city. To find this location, then follow the Great Glen Way blue posts; any map detailing the local area will have this shown. Another route to explore directly from your accommodation in Inverness is called the Dores loop, which takes you through a few of the city's wooded areas before following a track out to a quality piece of single track descent down into the village of Dores. Whilst there, be sure to sample the Dores Inn delights and absorb the stunning scenery at the Northern head of Loch Ness.
Keep an eye for Nessie!
There is a huge amount of forestry commission and natural wild Scottish land to explore for Gravel riders. A bucket list route simply out of this world as a biking experience is the Loch Ness 360. Eighty miles with over 3000m of climbing around the Iconic Loch Ness and can be done over one, two or more days, either on Mountain or Gravel Bike. You can start and finish anywhere around the Loch; however, the easiest and by far the best option is to start/finish in Inverness. A stunning route to immerse yourself in not only the scenery but also in recent Scottish history. Cycle the Great Glen Way on the northern side of the Loch to Fort Augustus before taking the South Loch Ness Trail back to Inverness with many viewpoints to observe the Loch. You never know; you might see something suspicious lurking in the waters!
To learn more about what Inverness and Loch Ness have to offer a cyclist, check out the excellent Loch Ness 360.
For bike hire and guided tours or self-guided information go to 42 Cycling and Ticket to Ride websites for more where you will be able to fulfill your cycling needs. They will make sure your visit is super special.
*A series of road networks that General Wade had constructed during the middle part of the 18th Century, enabling Government forces to bring order to a part of the country that rose up in the Jacobite rebellion of 1715. An added advantage of these roads was that they allowed more effortless movement around the Highlands, not just for the soldiers but also for the highlanders at that time.