9 Bonnie Places to Visit on your way to Loch Ness
At 23 miles long, deeper than the North Sea, and containing more water than all of the lakes in England and Wales combined, Loch Ness is a fantastic place for Miss Nessie to hide. Well, we assume she is a Miss. For all we know, there could be a whole family of Nessie's lurking around the depths of Loch Ness. This is why Loch Ness is so famous, because of its mystical enchantments and the complete unknown. Nobody has ever got deep enough to explore its depths. So, what's down there? And are the thousands of sightings right, is there a Loch Ness Monster and is she/he deceiving us all? We think aye! Nessie is there alright, she is just a master deceiver. What a wonderful place to call home eh?
On route to Nessie
Nessie or no Nessie, this is one of the most stunning and wonderful lochs in the world. The Loch Ness Monster is one of Scotland's many treasure and there are lots of places around Loch Ness to spot her from. Or was that a ripple in the waves? Or was that the monster? A tree branch, a large trout? Or… the monster.

But, Loch Ness is by far, not the only magical place in the Highlands. These lands are overwhelmingly beautiful, wild and ruled by the local wildlife, of which can be spotted just about anywhere. Especially around Loch Ness, there are lots of places to wonder over, spot wildlife and be completely enchanted by endless majestic hills, forests, waterfalls and wild waters. So, on route to Loch Ness, why don't you stop by one of these Highland treasures? There are endless opportunities to take in these magical lands.
1. River Ness
The picturesque River Ness runs 6 miles through the middle of the city of Inverness, from the northern end of Loch Ness to the Moray Firth (where the bottlenose dolphins live).
Whether you choose to walk along the banks of the River Ness, stop at one of the many riverside restaurants, or simply sit and watch the rapid flow of water with an Inverness Castle backdrop, the River Ness is a beautiful stretch of water. It is particularly special in the evenings, when all of the trees are sparkling with fairy lights and the bridges are illuminated.
It's also home to Eden Court theatre that offers year round entertainment through its two auditoriums and cinema.
2. Ness Islands
Known locally as "the islands," the Ness Islands are a collection of small islands that sit in the middle of the River Ness. Each is connected to the next by a serious of beautifully constructed Victorian footbridges. This is a place of unrivalled natural beauty. You'll often spot the hardy fishermen out in the rapids looking for their next salmon. Some of the largest salmon have been found in the River Ness. To have something so beautiful running through a city centre is part of the reason Inverness is so special.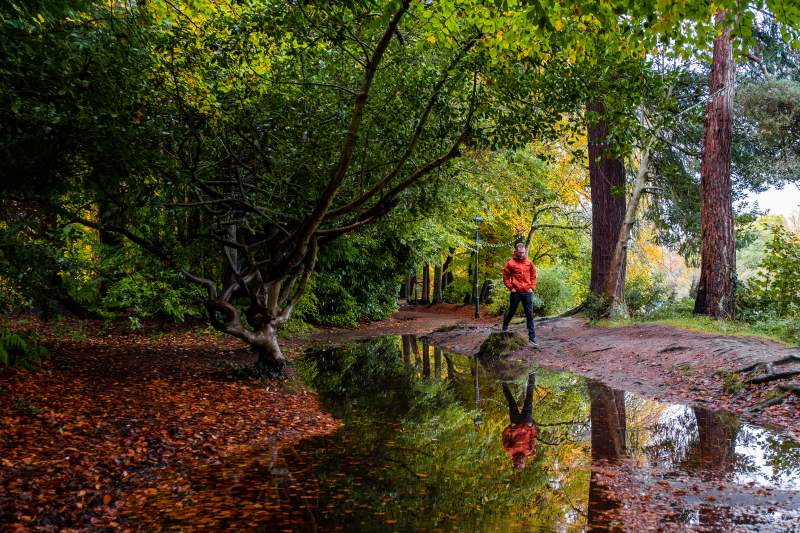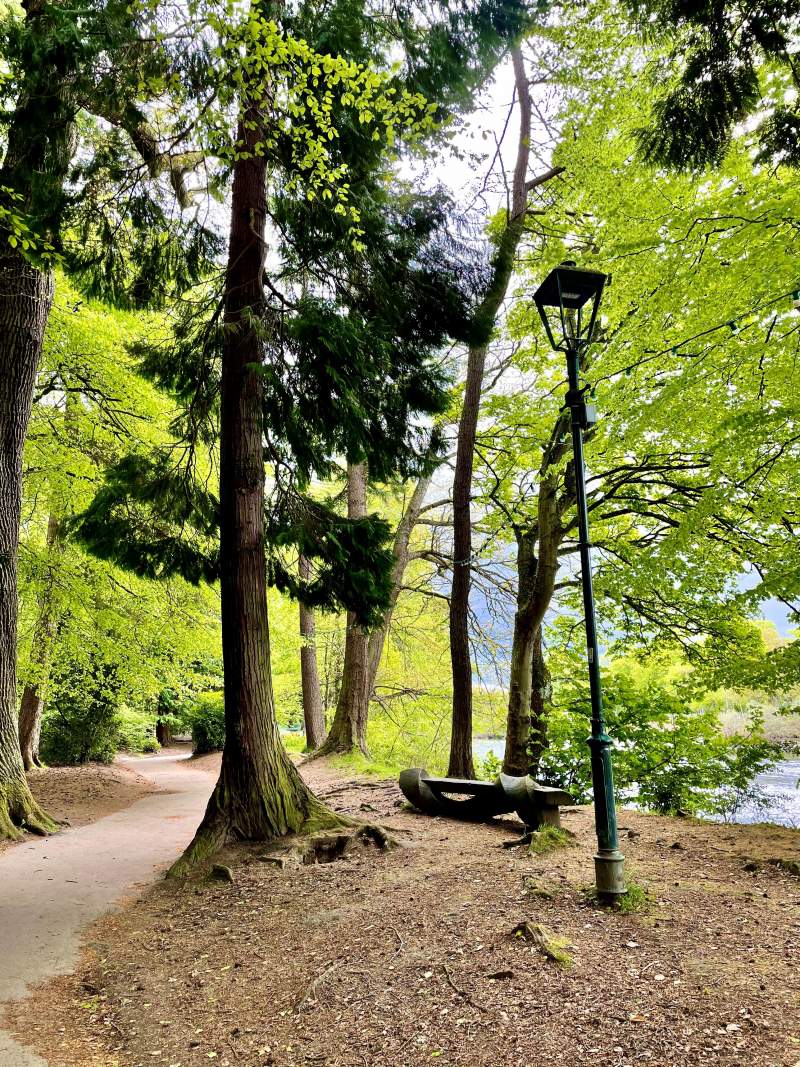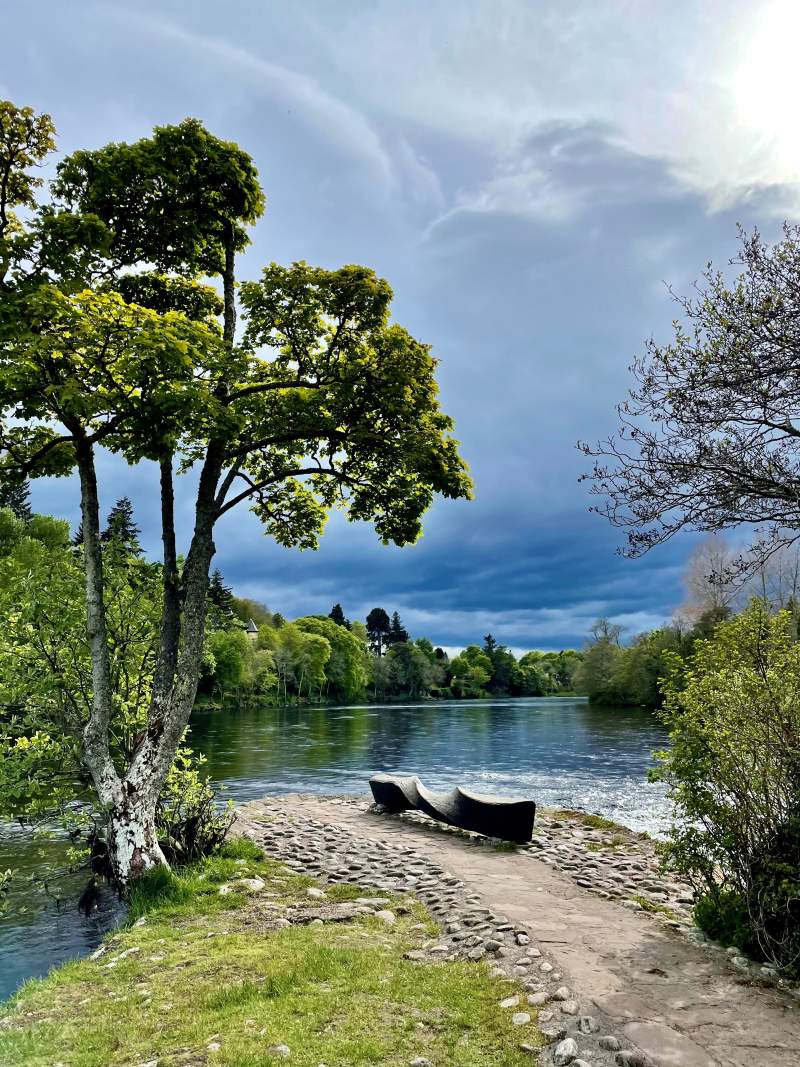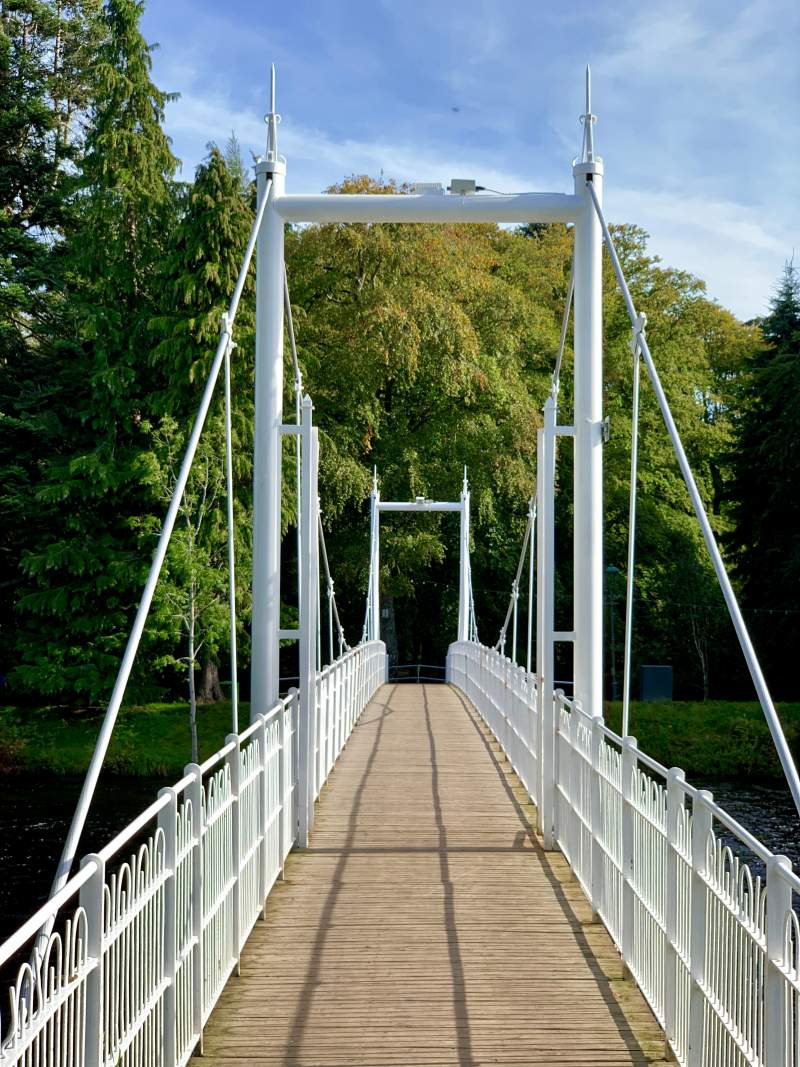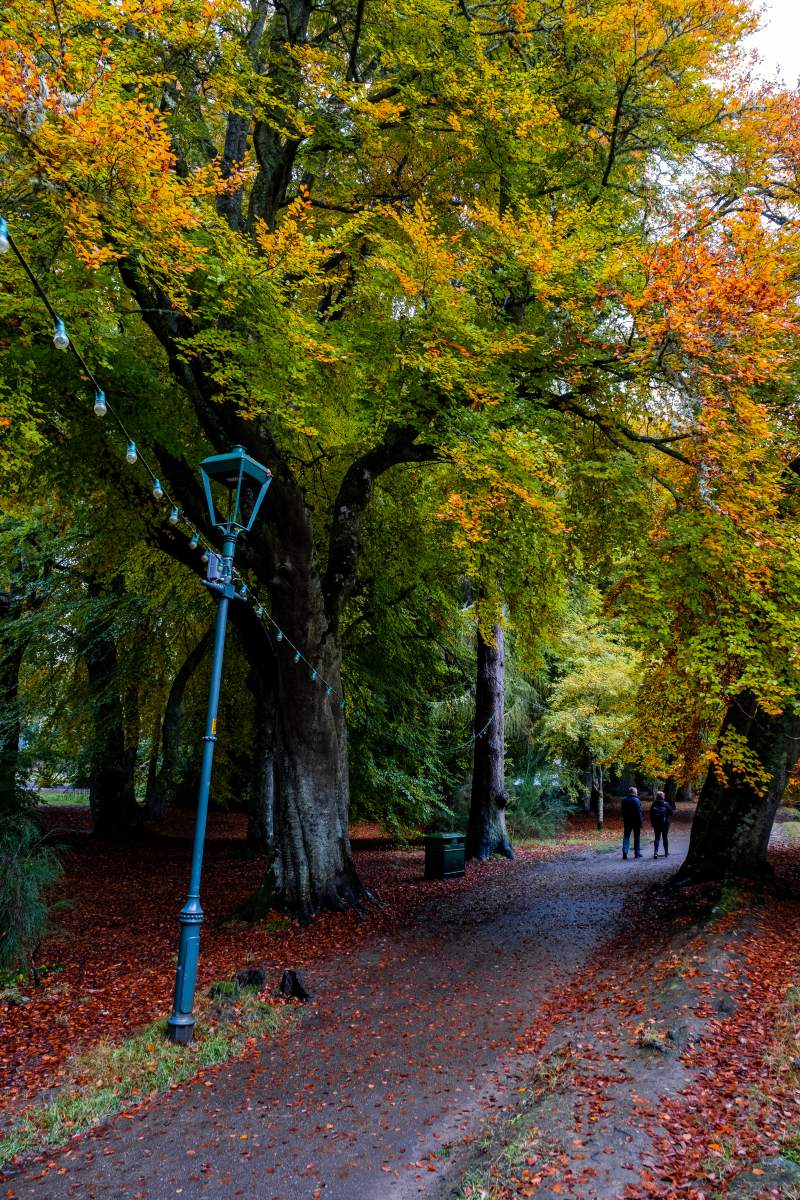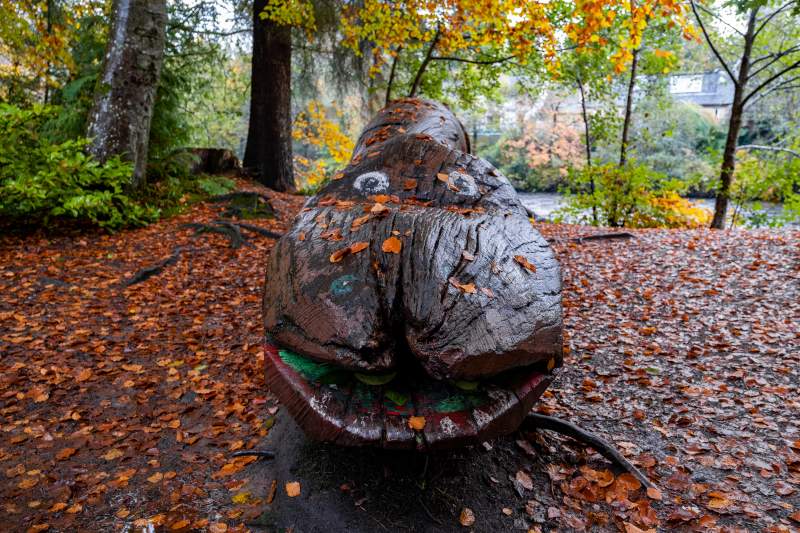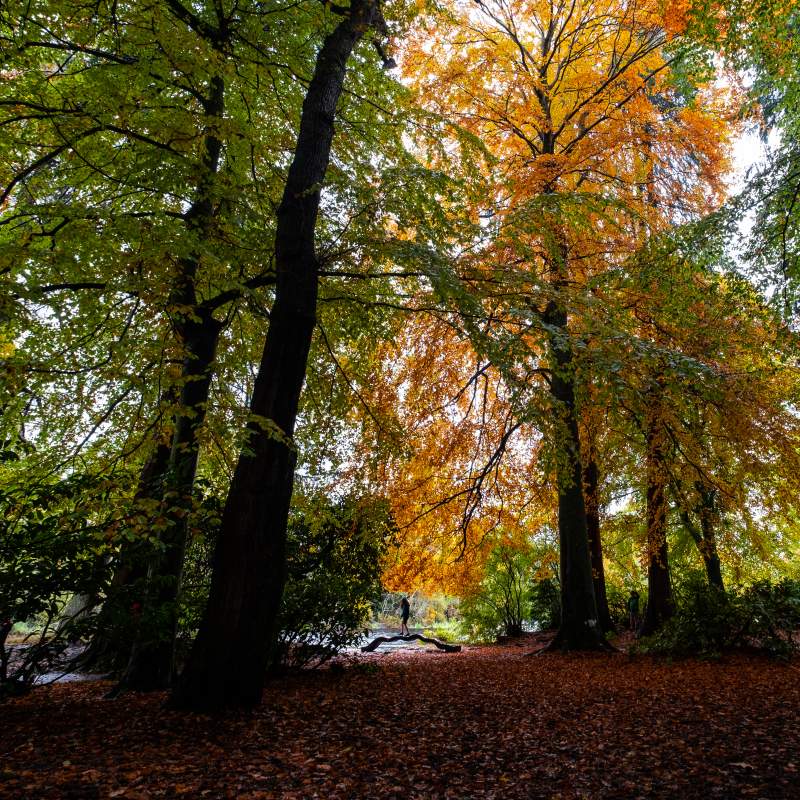 3. Bellfield Park
Then there is this hidden gem on the other side of the islands, or, only a 5 minute walk from Inverness City Centre. As far as well-maintained gardens go, Bellfield Park is definitely up there. Tree-lined paths dancing with blossoms take you to another, magical world. The gardens are manicured beautifully and there is a gorgeous bandstand in the park which would be a lovely place for a picnic, or a hot chocolate on a crisp Autumn's day. Alongside all of this, there are also a number of tennis courts and a wee paddling pool. Bellfield is lovely.

4. Inverness Botanic Gardens
Just before you head out the north Loch Ness road lies the Inverness Botanic Gardens, previously known as the Floral Hall. This is a beautiful place to just stop and relax. Time stands still at the Botanic Gardens. Between the wonderfully-maintaned tropical house, the cactus house, the well-kept gardens and the pond with friendly koi carp, you won't want to miss the Inverness Botanic Gardens.
5. The Caledonian Canal
Did you know it takes 3 days to cruise from one end of the Caledonian Canal to the other? That's because it runs 60 miles through Great Glen, connecting the east coast at Inverness with the west coast at Fort William. 22 miles of the Caledonian Canal are manmade, designed by Thomas Telford, and the further 38 miles are made up of Loch Lochy, Loch Oich and Loch Lochy. Visit Dochgarroch to wander part of the amazing manmade stretch with fantastic scenery, or hop on a Jacobite Cruise from Dochgarroch to explore Loch Ness by boat. Stop by An Talla for some Highland hospitality before your cruise.
You can also walk the Dochgarroch and Caledonian canal path.
6. Abriachan
Potentially one of the best places to spot deer near Inverness, Abriachan is a magical place that lies high in the hills above Loch Ness. You'll need to keep your eyes peeled for the sign though, blink and you'd miss it! Everybody should experience Abriachan at least once. Alongside being abundant in nature and wildlife, Abriachan is also home to the Abriachan Forest Trails, which is an interwoven woodland walk with many beautifully carved sculptures, signs, carved benches and hidden huts. This is like something out of Enid Blyton's 'Enchanted Wood.'
7. Loch Laide
A shallow loch up in Abriachan, Loch Laide warms up at the first sign of Summer, making it a lovely place to do a wee bit of paddling. The loch also freezes at the first sign of Winter, creating an enchanting Scottish wintery landscape. There is a wee fishing hut by the loch that photographs beautifully and the wildlife around Abriachan is abundant. It is always worth taking a moment of peace up at Loch Laide.
8. The Falls of Foyers
On the South side of Loch Ness, you will find the adorable small village of Foyers. Home to Foyers Lodge, a beautifully restored lodge with incredible views of Loch Ness and fantastic dining options. Foyers is home to the natural wonder that is the Falls of Foyers, an amazing 140ft drop into a gorge that winds down through the trees until it joins with Loch Ness. If you visit Falls of Foyers after a heavy rainfall, it is quite spectacular. You can also walk the 2.9 mile steep stretch down to the bottom of the falls but this is definitely steep, so please be careful and make sure you are well prepared with a rucksack and decent footwear. It is worth it.
9. Foyers Pier
A lesser known hidden gem, but an ample location for a moment of relaxation and some amazing photo opportunities, Foyers Pier is a lovely place to stop on your visit to Loch Ness. We think this is where Nessie does most of her hiding so if you want to visit somewhere off the beaten track, with direct views on the loch, visit Foyers Pier.
Always remember when travelling around Loch Ness, to keep an eye out for the monster. You might not always be watching her, but chances are, she's watching you.
For more Loch Ness exploring inspiration head over to our discovery hub where you will find itineraries and articles on everything there is to see and do in the area.