Celebrating Christmas in the Highlands
Celebrating Christmas in the Highlands
Christmas is a special time to spend with family and friends. If you are looking for the ultimate place to go, a trip to Inverness and Loch Ness has the perfect ingredients for a special Christmas!
Winter Wonder "Highlands"
We cannot guarantee snow on the ground, you will definitely see snow topped mountains and experience clear crisp days, with beautiful blue skies.
The Highland scenery really is stunning in the winter. And if snow does fall there is nowhere more picturesque to build a snowman or have a snow ball fight!
"Coorie in" for Christmas

This means to "Snuggle or nestle in" and there couldn't be a more perfect way to spend a special Highland Christmas with family and friends.
You are spoilt for choice when it comes to accommodation in Inverness and Loch Ness.
Think log burning fires, cosy cottages, woodland cabins or a charming bed and breakfast.
Christmas Packages
Does a Christmas without having to prepare and cook dinner sound good? Take away all the stresses of Christmas and enjoy the best Highland Hospitality in one of the local hotels.
Many provide Christmas packages for you to escape, relax, and enjoy the festivities.
Celebrate with the locals
Hear the sounds of a traditional music spilling out of the local bars, like MacGregors or Hootanany's. Make sure to spend an evening or two soaking up the atmosphere, having fun and celebrating with the locals in an Inverness pub or two.

Keep out of the kitchen and enjoy some of the delicious food on offer in the local restaurants. Take advantage of the world-class Highland produce in everything from tasty pub grub to fine dining experiences. If you are looking for a traditional authentic experience, try the themed nights at the Downright Gabbler in Beauly.

Explore
Where better to walk off all the Christmas over indulging? The area has so much to see and do and it doesn't all shut down over the Winter.
Here are a few suggestions … We have some beautiful woodland and beach walks to blow away the cobwebs after eating too many pigs in blankets!
You can add to the magic of Christmas by exploring the myths and legends of Loch Ness on a cruise with Loch Ness by Jacobite. Discover our history with a wander around Culloden Battlefield and visitor centre or a visit to Urquhart Castle.

What about Twixmas?
Twixmas..... you know that part between Christmas and New year when no one knows what day it is and you really need to re-charge you batteries for the incoming new year. Why not treat yourself to a getaway for a few days in the Scottish Highlands. Not only are there plenty of wonderful places to stay but there are some great deals as well. The Palace Hotel have a Twixmas deal just for you!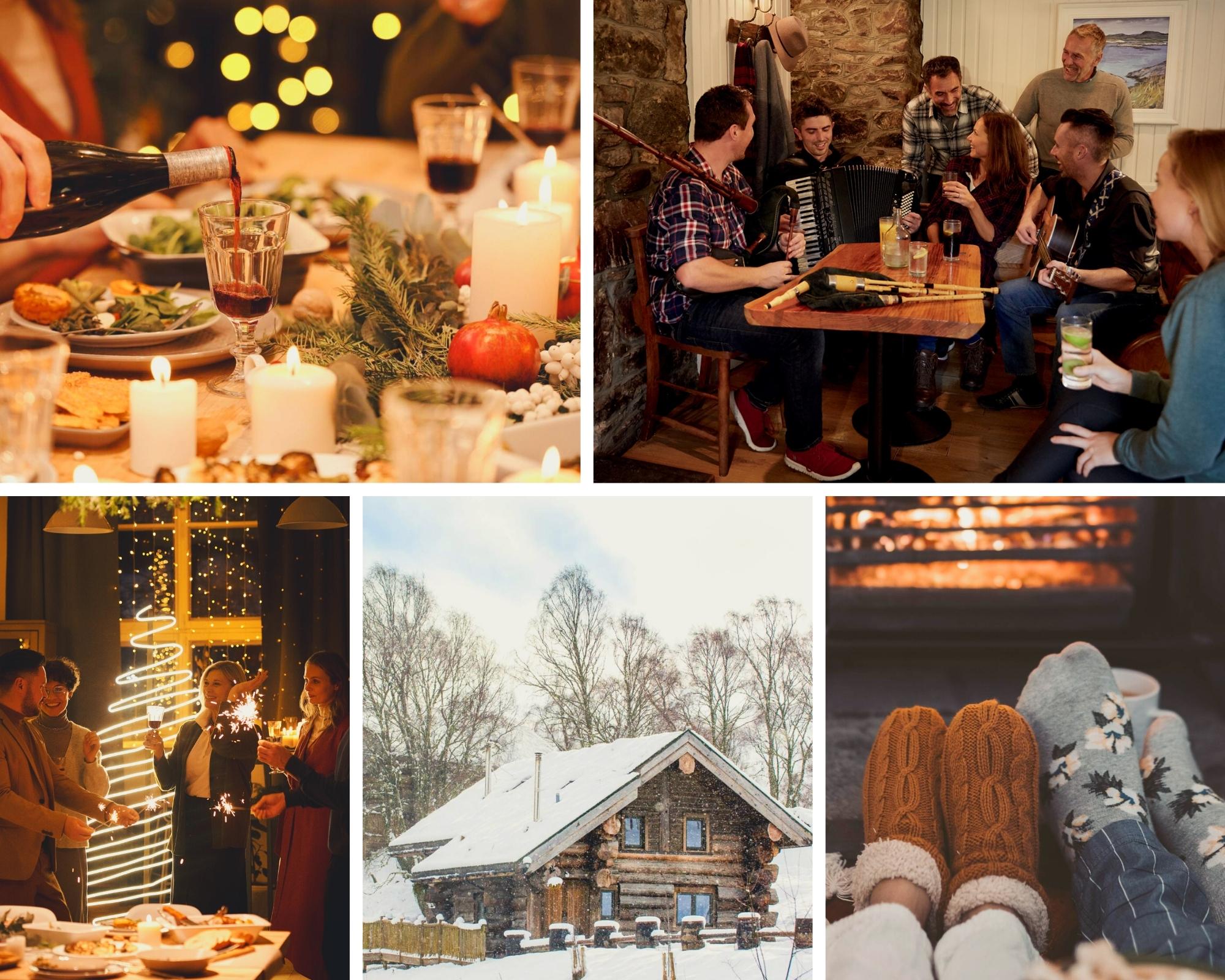 Stay for Hogmanay!
You don't just have to cozy up and stay for Christmas, why not extend your stay and bring in the new year in the Highlands. Check out or Hogmany in the Highlands blog for all the best ideas and tips.