So where is Loch Ness exactly?
Let's start with the basics. If you look at a map of Britain, Scotland is at the top, look at the far northern tip of the island – that's John O Groats. Now move south along the east coast until you get to the pointy end of the V shape – that's Inverness, the nearest city to Loch Ness. And that long, thin body of water just south of Inverness? That's it, you've found us! (Apologies to any cartographers who may be reading this!)
Everyone has heard of Loch Ness. A huge Scottish loch surrounded by mystery and legend. But, where is Loch Ness? In our "Where is Loch Ness" Blog, we look into the exact location of our loch – which is pretty much connected to our Highland Capital, Inverness.
Getting To Loch Ness, and Inverness
If you prefer numbers and distances, hopefully this will help. Loch Ness is 580 miles away from London, 460 miles from Birmingham, 380 miles from Manchester, 290 miles from Newcastle, 180 miles from Glasgow and 170 miles from Edinburgh. That doesn't mean it's difficult to get here, though!
The quickest way to get here is by air. Inverness Airport is the closest airport, which offers direct flights to Manchester, London, Dublin, Amsterdam and many more destinations. There are also direct rail and bus links to many UK hubs from Inverness city centre.
From Inverness, Loch Ness is a 30-minute drive away. Don't have a car? Don't worry! Have a look at our guide to getting to Loch Ness from Inverness by public transport or get timetables from the Traveline Scotland website.
See our Travel section for more travel information.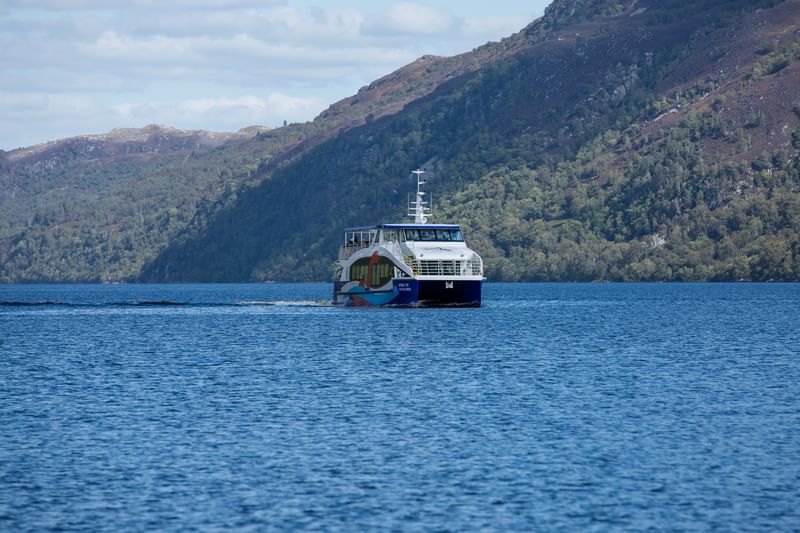 Once you have arrived, you're ready to explore. If you have your own or a hire car, it couldn't be easier to head out to the famous Loch – for the tourism hub of Drumnadrochit head down the north side of Loch Ness on the A82 towards Fort William.
After just a few miles you will catch your first glimpse of the loch on your left-hand side. Stop at Dochgarroch or the Clansman Harbour for Loch Ness cruises, check out the visitor centres and gift shops in Drumnadrochit and don't miss out Fort Augustus for more cruise options and a look at the locks.
If you prefer to see the "quiet" side of Loch Ness, head down the South Side of Loch Ness on the B852 towards Dores and Foyers, where you will find lovely walks, quiet picnic spots and amazing viewpoints! Not to mention, the South Loch Ness Trail, which is the perfect way to explore the area.
Another great option to see Loch Ness without driving yourself is to take part in an organised tour with Loch Ness by Jacobite, which you can pick up in Inverness city centre. These run all year round.
Many local tour operators also offer bespoke or small group tours that take you to Loch Ness and farther afield – a great option if you are interested in local history and wildlife. Head over to our Things To Do page to find the perfect tour for you.
So, now that we've told you where where Loch Ness is and how you can get here – what are you waiting for?