The perfect wellbeing escape in Inverness and Loch Ness
Stepping out of your busy everyday life and looking after your well-being has never been more important. Let us tell you why a visit to Inverness and Loch Ness is perfect to rest, relax and re-charge your mind, body and soul.
Connecting with nature is recommended as one of the most effective ways to positively impact your well-being. It just so happens that around every corner in Inverness or Loch Ness you are surrounded by incredible natural landscapes to immerse yourself in.
A short scenic drive west of Inverness you can escape into the wonderful woodlands of Reelig Glen, 2 short nature trails weave you through this small natural gorge, you follow the Moniac burn through the 100 year old Douglas fir trees making sure to keep a look out for wildlife. Take a moment at the small waterfalls dotted around the calming walk, a real nature lovers paradise.
Wild Swimmimg
Wild swimming has become an incredibly popular way to improve your well-being and is said to have many health benefits.
Inverness is surrounded rivers, Lochs and beaches for you to take a refreshing dip, many of them in areas of absolutely stunning natural beauty.
Feel refreshed
You may be pleased to know that you don't have to take a dip to get some water therapy! Feel the fresh Highland air on your skin whilst you sail the waters on a Loch Ness cruise or take to the firth on a wildlife spotting trip, some days the string breeze can certainly blows away any cobwebs but leaves you feeling refreshed.
We are lucky to have some excellent boat trip providers both on Loch Ness and in the Moray Firth to see the dolphins. Check out Loch Ness By Jacobite, Cruise Loch Ness or Dolphin Spirit.
Take a moment
For a moment of meditation or the perfect backdrop for a nourishing yoga flow, there really isn't a more suitable place than the banks of the magical and mystical Loch Ness. One place in particular is Dores beach where your view down the loch stretches as far as the eye can see, not to mention a wonderful place to catch a magnificent Highland sunset or sunrise.
Rejuvenate in nature and bubbles
Picture yourself nestled in an idyllic, rural woodland setting soaking in the warm rejuvenating bubbles of a hot tub with an amazing Highland view or even under the starry nights sky.
This could be your well-being escape reality at Wildside lodges in Whitebridge or at Kiltarlity Lodges. Or relax at other rural lodges in the area Moniac Lodges and Eagle Brae.
Take some you time
Your choice of accommodation in Inverness and Loch Ness can come with added treats to boost your well-being.
A relaxing spa treatment during your visit to soothe away your tension and any aching muscles, many of our local hotels have spa facilities and treatments available. The Kingsmill Hotel and Inverness Palace Hotel boast leisure facilities that will be sure to help you relax.
Get active outside
Being active in the fresh air of the Highlands can be just as revitalising for the soul as rest and relaxation. If you like to exercise or take part in outdoor activities and pursuits then you are spoilt for choice and will struggle to decide what to do first!
Whether it's hiking in the Scottish hills, cycling the local trails, kayaking on Loch Ness or paddling a canoe down the local rivers, these are just a few ideas of the activities available to get the bloody pumping, the heart racing and most importantly your energy soaring.
If you are looking for guide or to join in an arranged activity, here are a few companies to check out
Food for the soul
Good food is essential to feed your soul happy! It is not always about eating healthily and can be more about the whole dining experience or having a special treat, luckily for you we have a rich choice of ideas and options!
The Highlands are known for fresh, tasty seafood and as well as tempting your tastebuds it also provides essential nutrients and immune system boosting vitamins. You can take your pick of stunning fish and seafood choices in many local restaurants, the River House in Inverness has a daily catch or for a hearty fish and chips, try MacGregors bar.
For exquisite fine dining, all dietary requirements well thought out and catered for, there is Torrish restaurant at Ness Walk hotel. With a beautiful river side location this is a perfect special occasion experience.
Plant based options
Plant based diets are really well catered for with many places now offering a full vegan menu. For a light bite, the Alley Cat is the only fully Vegan place to eat in Inverness, but for a take away you can try Perk who have vegan options and top of the list is their mouth-watering vegan doughnuts.
Afternoon Tea
Let's be honest, a sweet treat with an amazing cup of coffee or an afternoon tea experience is a great way to lift your spirits and make you smile. Why not curl up with a delicious hot chocolate in front of the log fire with a book at Cameron's tea rooms in Foyers.
Why not gather your friends for a well-being getaway and indulge in a tipsy teaparty at the Downright Gabbler whilst you catch up on life and spend time together making fun memories.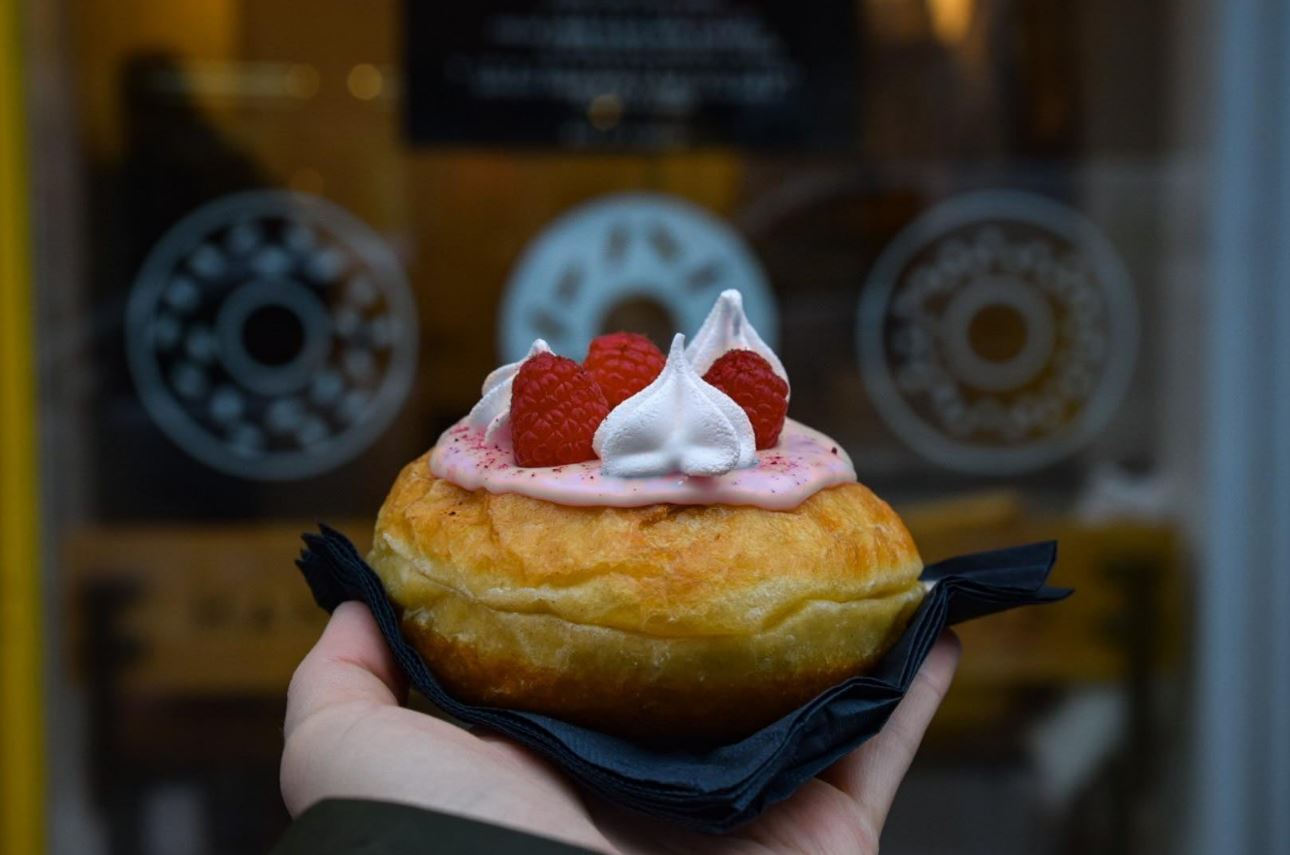 The Highlands and well-being escapes go hand in hand and Highlanders know when to find a comfy bench or rock, stop, sit and take in the sights, sounds and smells of the world around us and we love to share it too. Come and experience it for yourself, we highly recommend it!
To plan the perfect well being escape, you will find all the accommodation and things to do options on our handy maps!