Inverness & Loch Ness by campervan or motorhome.
Exploring Loch Ness and Inverness by campervan or motorhome.
Inverness-based writer, broadcaster and life-coach Nicky Marr takes you on a journey through a locals eyes touring our destination in her motorhome. Nicky has explored the area that has been her doorstep for over 25 years having lived, worked, raised a family here. Apart from her bike, her motorhome is one of the best ways to tour the area and she tells you about it below!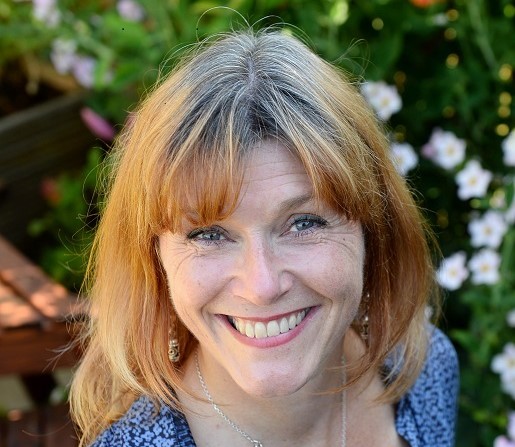 A space to daydream.
We've parked our motorhome at Loch Tarff on the south side of Loch Ness. I'm sitting on a camping chair in the shallows, and my toes are in the water. Pleasingly, there's the faint whiff of bacon in the air - Mr Marr is on catering duties. The only distractions are birdsong, the breeze through the young birch trees, and the gentle lapping of tiny peaty waves around my ankles.
It's the sort of early summer's day when it's easier to spot the fish against the trout-brown of the loch floor if you first look for their shadows. At just a couple of inches long the young fry dart around in small shoals. There's safety in numbers.
We're alone till a car pulls up and a family of four join us by the water - Mum, Dad and two young kids. We chat easily as the mother tells us they're on week-long UK tour from London. Already today they've driven from Braemar and they're heading for Gleneagles this evening.
300-miles in a day? I'll stick with 30, thanks.
Their whistle-stop, 300-mile tour - on a blissfully warm Highland day - will have taken in the Cairngorm National Park, Inverness, the whole circumference of Loch Ness, and the A9 to Perth and beyond. In my book, that's no way to enjoy Scotland. Sure, there will be photographic evidence and a plethora of magnificent backdrops. I watch as the kids are posed beside the water and as they dutifully smile for the camera. They are urged not to get their feet wet because 'there's no time to get dried'. The wee boy picks up a stick to poke into the water, but with the bribe of another sandwich he is hurried back into the car. Onwards, onwards, onwards.
I reflect that it has taken us 24 hours to drive our van the 30 miles from home in Inverness, and that while that pace doesn't 'get miles done', it suits us better than rate at which this young family are seeing Loch Ness. Slowly does it. I suspect I'll carry the memories of this warm, peaceful afternoon with me for a very long time.
So, what have we done in our slow 24 hours so far? A perfect 'not much'. Just as we like it.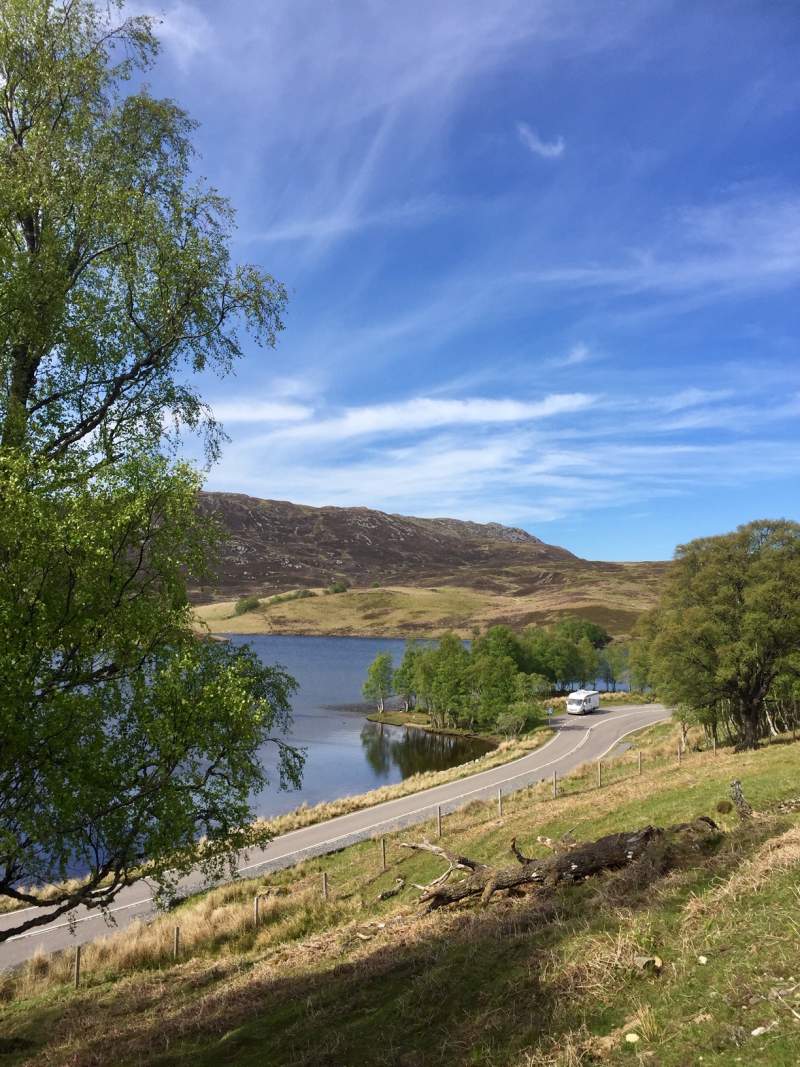 Loch-side in Foyers at Loch Ness Shores.
We checked into the beautiful Loch Ness Shores campsite in Foyers around lunchtime yesterday, chose a grassy pitch in the site's upper tier, plugged in, unwound our awning, and lay in the sun for a while, contemplating our next move. The loch was calling us, so we dropped down to the site's jetty, and watched the sun dance on the water for a while.
The bluebells by the river were in full flower and we had the woods to ourselves. The gorse was fragrant with the scent of coconut as we walked under blue skies to the old factory - built as a Victorian hydro-powered aluminium smelter, it's now an SSE pumped storage facility. Then we braced ourselves for the steep climb through the primrose-strewn forest to the two Falls of Foyers and found a prime spot for a photo. Although we've visited this spot countless times before, it changes every time.
A monster of a swimming pool!
Perhaps the best thing about Loch Ness Shores campsite is its huge on-site swimming pool, Loch Ness! Endlessly deep and stretching all the way from Dores to Fort Augustus, it's free, and at an almost constant temperature of 4C, it's refreshing too! You never quite get it to yourself, though - Nessie is bound to be lurking somewhere, and the eider ducks can be inquisitive of humans who lie flat on their backs on the surface of the water, watching swallows catch flies overhead. There are few boats on the loch, but it was fun to bob in the wake of the high-speed Rib from Cruise Loch Ness as it sped its thrilling way between Fort Augustus and Castle Urquhart.
After an early swim, a hot shower and a lazy breakfast, we packed up and climbed the village brae, indicating right at the top of the village brae to wind westwards past a busy Cameron's Tearoom and Farm Shop, and on to Whitebridge. The old military road, built in the 1700s, climbs to the top of Suidhe before dropping down to Loch Tarff, which is where I'm sitting, feet in the water, lazily typing. I might do tackle the crossword when I'm done or have a snooze in the sun. Maybe a second swim… could I reach one of the islands?
From here the road drops steeply to Fort Augustus, with astonishing views on the way. There's a new footpath over the hills for walkers, and the route round the loch is a popular challenge for lycra-clad cyclists. Today our van's engine took the strain, but we stopped to stretch our legs on the way here with a half-hour walk along the Great Glen Way footpath at the summit of Suidhe. I'm not boasting, but with the weather on our side we counted all seven of the lochs that are visible on a clear day.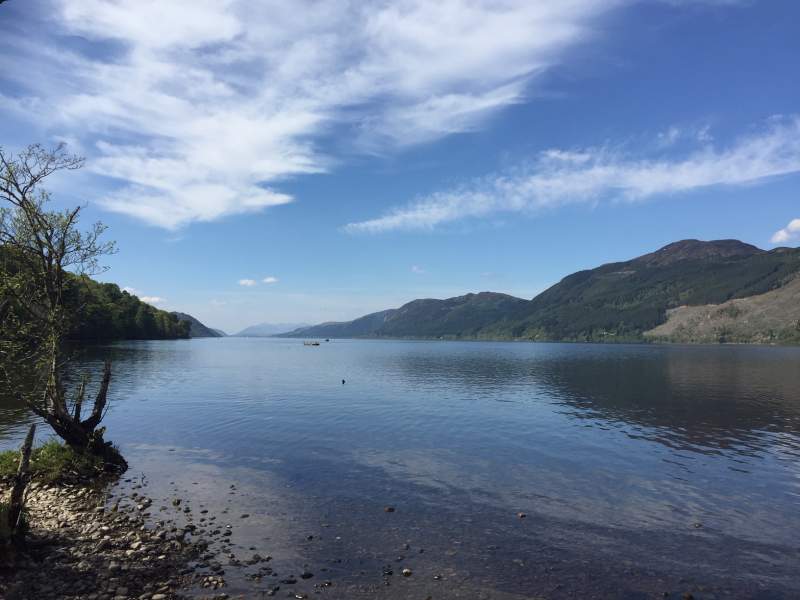 The slower the pace, the more there is to enjoy.
Ours is a single night escape, this time so the 30 miles we have travelled to Loch Tarff is enough. We'll sit a while longer, and head back to Inverness when the sun begins to lose its warmth, or when we're hungry again. I feel utterly relaxed. There are lambs in the field across the road, and their bleating seems in time with the twitterings of the birds. Mercifully, there's no mobile signal, so our phones are useless, other than for capturing the scene.
Why would you want to travel faster or further? The slower the pace, the more there is to enjoy. The joy of living locally is that we'll be back to slowly savour the rest - Borlum Farm Caravan and Camping Park next weekend and Cannich camp site the one after. If friends want to join us, there are camping pods for rent at several of these locations - Camping Pod Heaven, high above the shores of Loch Ness at Abriachan, Loch Ness Glamping at Dumnadrochit or Inverness Glamping closer to the city. Glamping pods, are sturdier and more midgie-proof than a tent, are ideal for those travelling on foot or by bike, or who haven't (yet!) joined the good life with their own or a rented van.

Loads to enjoy in and around Inverness.
If you're not lucky enough to live locally there's a great choice of sites in and around Inverness that welcome touring vans. Ardtower Caravan Park and Culloden Moor Caravan Site are both fantastically handy for the historic battlefield, while Bunchrew is in an idyllic spot right on the wild-life strewn shore of the Beauly Firth.
A few miles south of the city, there's a warm welcome at Tomatin Glamping pods, and tourers can check in at Auchnahillin Caravan Park on National Cycle Route 7 near Moy.
In the heart of the city, MacDonald's Bught Caravan and Tent Company and Torvean Caravan Park are both near to Telford's Caledonian Canal, the River Ness and her pretty islands. All the local sites offer easy access to the bars, restaurants, shops, culture and general buzz of the Highland capital.
Badgers in beautiful Beauly
And don't forget Beauly - the site there has its own nature reserve - we spotted badgers and an otter during our last visit, and the short-eared owls hooted us to sleep. The history of the town and its priory is pretty special too, and it's a local byelaw (it's not really!) that you have to spend your hard-earned cash in the town's thoughtfully-stocked independent shops and delis.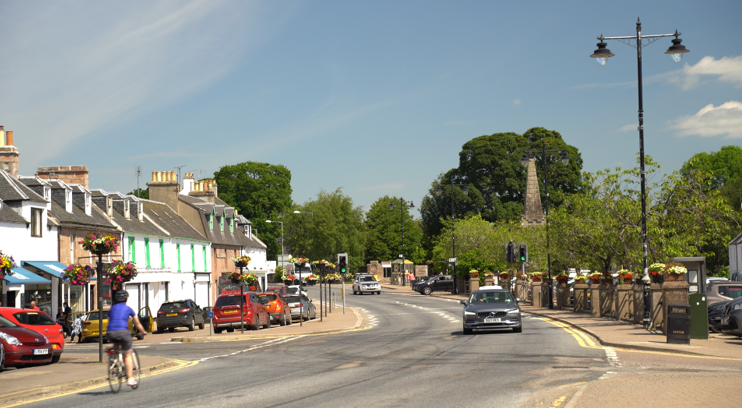 A place to be, not a place to 'do'.
I've lived here for nearly 25 years, and even exploring the area on foot, by bike, by van and - occasionally - by kayak and paddleboard, I'm still discovering new gems, finding new vistas, tasting new flavours, and making new friends. Yes, you could whizz round the loch at the speed limit, post a few photos on Instagram and consider Loch Ness 'done', but you'd be kidding yourself. You'd also be missing out.
Take a week, a fortnight, or - in my case - a quarter century. Slow down. This is a place to be, not to a place to do.
Top tips and guidance for touring in a campervan or motorhome
Please stay at campsites - there are plenty of them to choose from! Check out our Accommodation map for the sites in our area.
Sites in Inverness and around Loch Ness can get very busy, however, so plan and book ahead, rather than leaving it to chance.
The roads along the south side of Loch Ness and elsewhere in Highland are single-track with passing places. Read and understand the etiquette for driving in the Highlands and use passing places to allow traffic to overtake if queues begin to build up behind you.
Visit the CAMPA website for helpful information on waste disposal and driving on single track roads.
Our Highland environment is beautiful, please help us to keep it that way now and for future generations to enjoy. Avoid lighting fires and take all your rubbish and waste away with you. There's an interactive map showing waste disposal points here. Take nothing but photographs and leave nothing but footprints. #respectprotectenjoy