Explore Inverness and Loch Ness on Two Wheels!
The Inverness and Loch Ness region offer cycling routes for all abilities, from easy family rides to challenging cycling sportives!
For Beginners and Families
There are many cycle routes suitable for beginners and groups of mixed ability. One good example is the Dochgarroch Loop, which starts from Tomnahurich Bridge in Inverness. You'll find plenty of free parking at the nearby Rugby pitches.
Start cycling from the swing bridge towards Dochgarroch Lock on the towpath next to the old bridge keeper's house, which is now a holiday home. The towpath leads you along the canal on the right and the River Ness on the left – great views!
On weekends the towpath can be quite busy, so watch out for dog walkers and runners. After around 4 miles you will reach Dochgarroch. This is a perfect opportunity to take a breather, watch the boats go through the locks and relax in the picnic area or grab a bite to eat at An Talla.
Then, you can cross over the lock gates to the other side for your return leg. The path has recently been upgraded and is now just as level and suitable for cycling as the other bank. It will take you less than one hour to cycle the Dochgarroch Loop, a great introduction to cycling in our area!
On your return, why not reward yourself with coffee and cake at the nearby Inverness Botanic Gardens?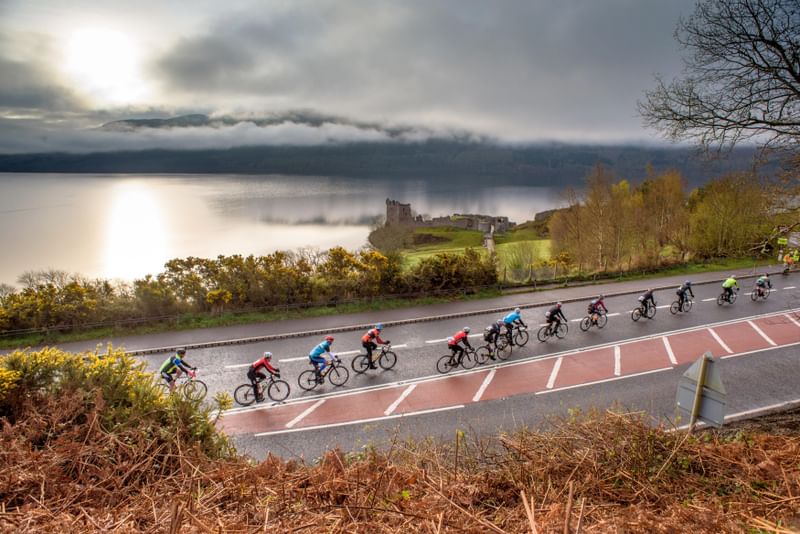 For Experienced Cyclist
If you are a seasoned cyclist, we have events for you too!
Every April the Etape Loch Ness returns to the shores of our famous Loch Ness … and it's not for the faint-hearted! This amazing cycle sportive starts and finishes in Inverness and competitors tackle the whole 106 kilometres around Loch Ness. Not forgetting the 900 metre ascent. If you are an experienced cyclist or looking for a real challenge for charity or to get fit, why not sign up for this unforgettable event?
If racing is not your thing and you'd rather explore Loch Ness and the Great Glen at a more leisurely pace, did you know that the Great Glen Way and South Loch Ness Trail are also suitable for cyclists? Bring your mountain bike or hybrid bike or hire one in Inverness from Ticket To Ride! If you prefer an experienced guide to show you the best cycling routes, get in touch with 42 Cycling.
We hope we've given you some ideas for places to cycle around Loch Ness and Inverness. It's great fun, whatever your age or ability!