The Best Al Fresco Dining in Inverness and Loch Ness
As summer approaches, there are some wonderful places to eat in Inverness and around Loch Ness with outdoor dining space. The perfect way to relax and enjoy Scotland's clean, fresh air.
Inverness Restaurants for Al Fresco Dining
Down by the River Ness is the Contrast Brasserie, part of the Glenmoriston Town House. With wonderful views, it's a great place to take in the ambience of al fresco dining. Perhaps for a pre-theatre meal, before walking across the Infirmary Suspension Bridge to Eden Court Theatre?
Further down the river towards the town centre there is the Mustard Seed Restaurant. Open since 1995 in a converted church, the simple cooking and warm friendly atmosphere makes it a favourite with the locals. On a warm evening, dining outside on the balcony is a wonderful experience.
And our third choice is Prime Steak & Seafood Restaurant, the only restaurant in Inverness to specialise in quality, locally produced steaks and seafood. A new addition to the restaurant scene in the city, it is quickly establishing a great reputation not only for the food but also for fantastic service. With outside street dining available what better way to spend the evening than munching your way through a T-bone steak while watching the world go by!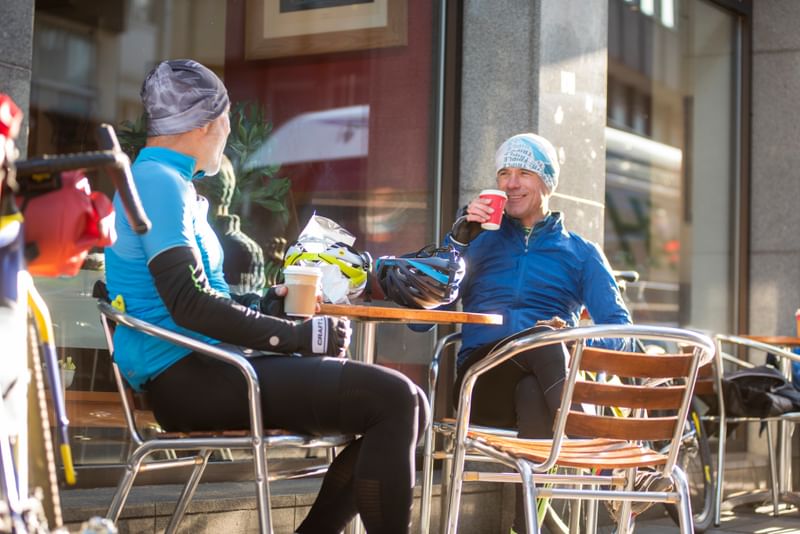 Outdoor Dining around Loch Ness
Moving out of Inverness, al fresco dining is more limited. But we would recommend the Dores Inn for good pub grub on the shores of Loch Ness. It's always busy, so ensure that you book in advance. The views are amazing down the length of loch. And if the wind starts blowing, you can still enjoy outdoor dining in the sheltered garden area at the front of the property.