Connections to every corner of the Highlands
Written By Nicky Marr
It's well known that Inverness is a jewel of a city, and that Loch Ness is an astonishing body of water, crying out to be explored in a myriad of different ways. I've lived here for nearly 25 years, and I never tire of the city, or of the beauty and mystery of the loch, and the people and communities around its shores.

But even the most cursory glance at the map reveals another beauty of Inverness; it is the ideal base for exploring all points of the Highlands. You can even get to some of the islands and back in a day. Let me show you the wealth of opportunities… how will you decide which to choose first?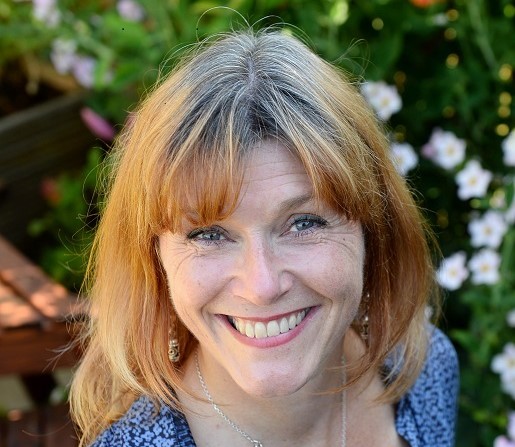 Loch Ness 360˚ Trail
Get your active head on, and immerse yourself in the full 360˚ Loch Ness experience? A 130km hiking, biking, cycling, and riding trail connects the Great Glen Way and the South Loch Ness Trail to create an unforgettable circuit of the most famous loch in Scotland.
Start and end at Inverness, or dip in at any point along the route. Aim to complete it in one go (five or six days on foot, two or three on mountain bikes, depending on your fitness levels) or complete it in sections over a period of weeks or months as the notion takes you and the seasons change.
The way is well marked, but to get the most out of the route there's a dedicated website showing elevations (this is not a flat stroll around a shore line!) and explaining what you'll see and experience in each stage.
Completers in Inverness will enjoy a well-earned pint at The Castle Tavern, just opposite the official start/finish line at Inverness Castle.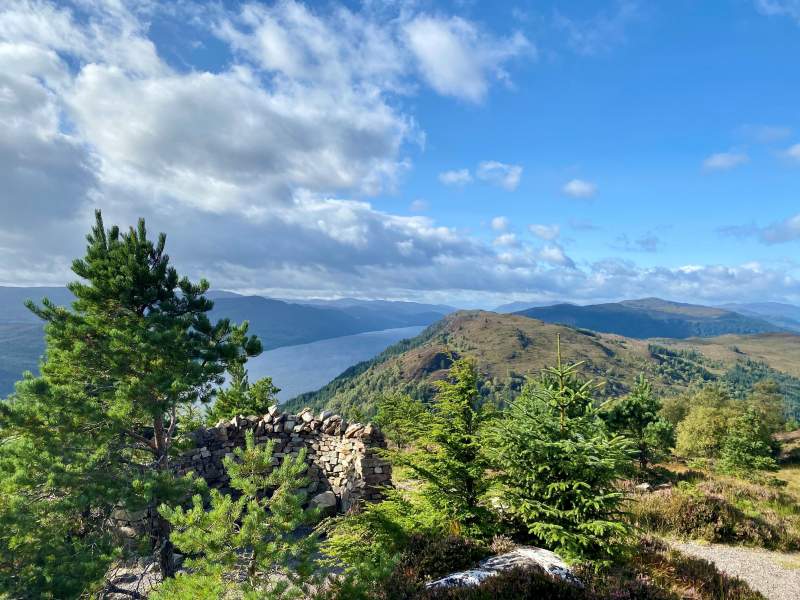 North Coast 500
The North Coast 500 needs little introduction; the Highlands' famous version of America's Route 66 starts and ends in the Highland Capital and takes in the rugged wilderness of the west coast, the remote communities and beaches of the north coast, and the castles, villages and open-road vistas of the east coast.
These 517 miles are not miles to be raced; they're miles to be savoured, to be detoured from as the whim takes you. A trip to Cromarty at the far tip of The Black Isle might be on your radar (fancy a marine wildlife trip with EcoVentures?) and the road between Lairg and Tongue is a road less travelled, and perhaps all the more attractive for it.
Bird watchers will want to immerse themselves (perhaps not literally) in the Flow Country, a vast expanse of blanket bog that hosts an eye-catching flora and fauna and also play a vital role in our defence against the effects of climate change.
Surfers will want to catch world-class barrelling waves on Thurso-East beach; peak surf season is from October to April. It's a magnificent sport, even for spectators who prefer to watch from the sand.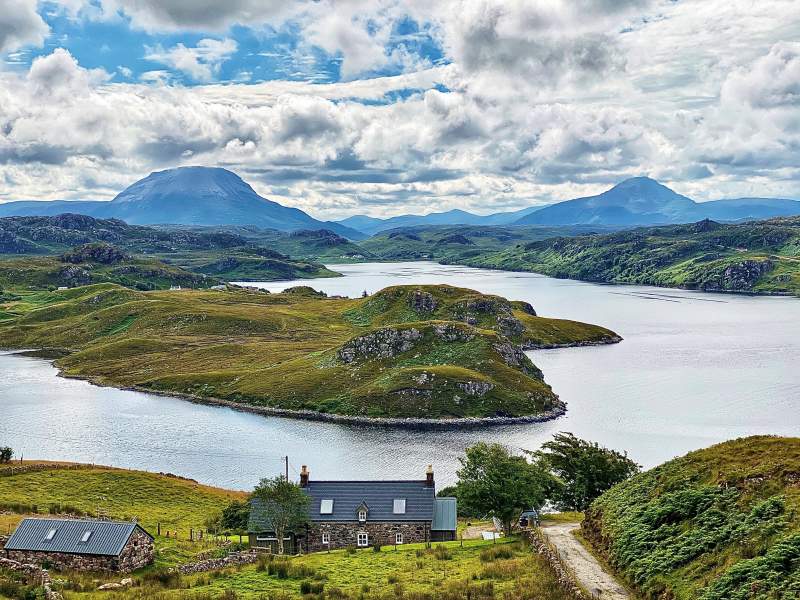 Glen Affric
Just 15 miles west of Loch Ness is the Glen Affric Nature Reserve. Mountains and lochs, ancient Scots Pine forests, rivers, moors and miles and miles of walking and biking tracks, this remote glen has it all. Here you'll hear stags bellow during the rutting season and watch ospreys fish for their young in late spring. Visit the many and abundant waterfalls - they're spectacular after rainfall. Gather blaeberries in summer, and gorge on them till your tongue turns blue. And if you know what you're looking for, there are fungi aplenty in these woods in autumn.
Otherwise, take nothing but photographs. You'll leave with a full bank of memories, and a yearning to return.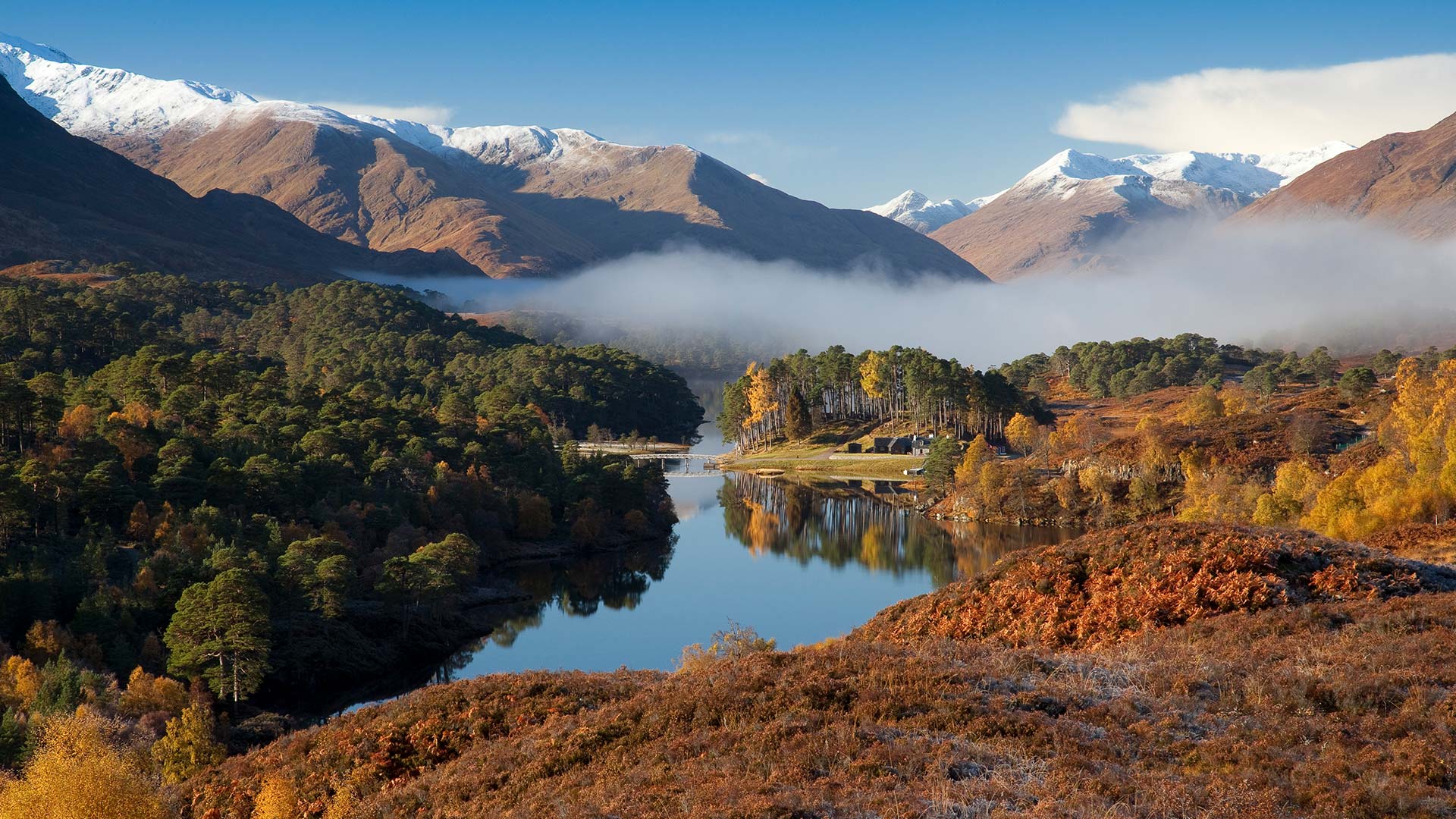 Cairngorm National Park
A mere half an hour south of Inverness you can find yourself in the depths of the UK's largest national park - the Cairngorms. It's a dramatic and ever-changing landscape of soaring mountains and ancient pine forests, lochs, and rivers, with lush farmland and grouse moors, dotted with castles, distilleries and bothies.
Full of vibrant towns and villages, the park is home to Scotland's largest ski resort and is a playground for adventure - every conceivable outdoor sport can be practiced and enjoyed here, from summer sailing and paddle-boarding to arctic-condition ice-climbing. There are mountain-bike and hiking trails, zip wires and river-tubing, or take to the mighty River Spey on a leisurely paddle through the heart of whisky country.
But if all that activity is too exhausting, relax with a cuppa and excellent slice of cake in a café, and see the red squirrels feed, leap and play. Visit the RSPB centres to watch the resident ospreys as they nest and rear their young high among the treetops. Listen for grouse, crossbills and capercaillie too.
Whatever your outdoor passion, you'll find it in the Cairngorms. And all within easy reach of the Highland capital.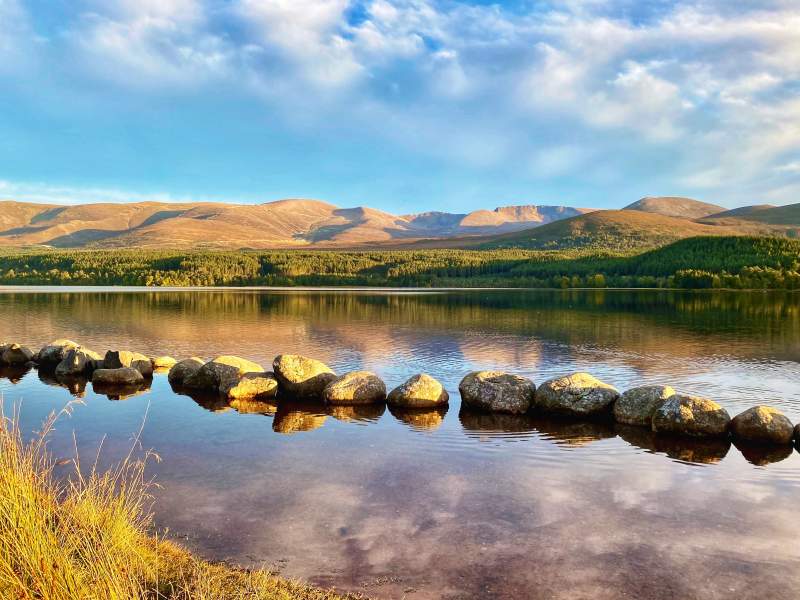 The Great Glen
Take a drive down the magnificent Great Glen, 100kms south west, in an almost straight line from Inverness. Your destination is Fort William, the town at the base of the most majestic mountain of them all, Ben Nevis, but much of the joy is in the journey itself. The drive will take you past Lochs Ness, Oich and Lochy to the sea loch, Loch Linnhe, and through many towns and villages, including picturesque Fort Augustus at the south end of Loch Ness.
The lochs are joined by sections of the Caledonian Canal, Thomas Telford's remarkable 19th century construction, which allowed - and still allows - ships and boats to travel coast to coast. Engineering fans (and others!) will love the series of canal locks at Fort Augustus and at Neptune's' Staircase.
Fort William and the Nevis resort are a magnet for hikers, mountain bikers and snow-sports enthusiasts. And for fans of long-distance walking, the Great Glen Way is the best way to get up-close-and-personal with the landscape and its wildlife.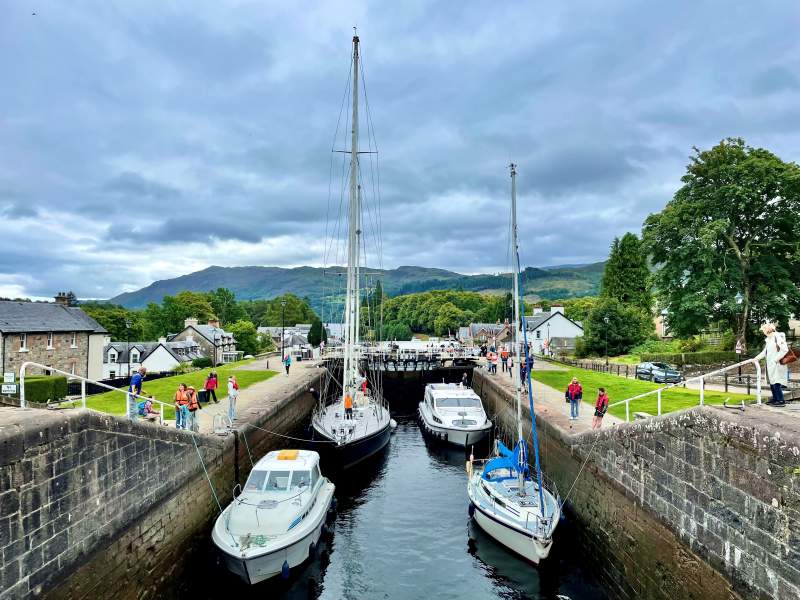 The Isle of Skye
Long associated with dramatic skylines and romantic tales, The Misty Isle of Skye can - if you're pushed for time - be sampled in a day from Inverness. Bus tours from Inverness offer to take the strain, allowing you to enjoy the stunning scenery as you wind your way either via Loch Ness, Glen Shiel and past the famous Eilean Donan Castle, or on the northern route via Achnasheen and Lochcarron. The Skye Bridge is famed for its elegance, and the island itself has to be seen to be believed.
A day trip from the Highland capital will allow you to just scratch the surface of this mystical island. You'll immerse yourself in astonishing landscapes - the Old Man of Storr and the other-worldly geology of The Quirang have to be seen to be truly believed - and the famous Fairy Pools are wondrous - especially if you're lucky and get them all to yourself.
The memories of a Skye taster day from Inverness will have you planning to return again and again. Guaranteed.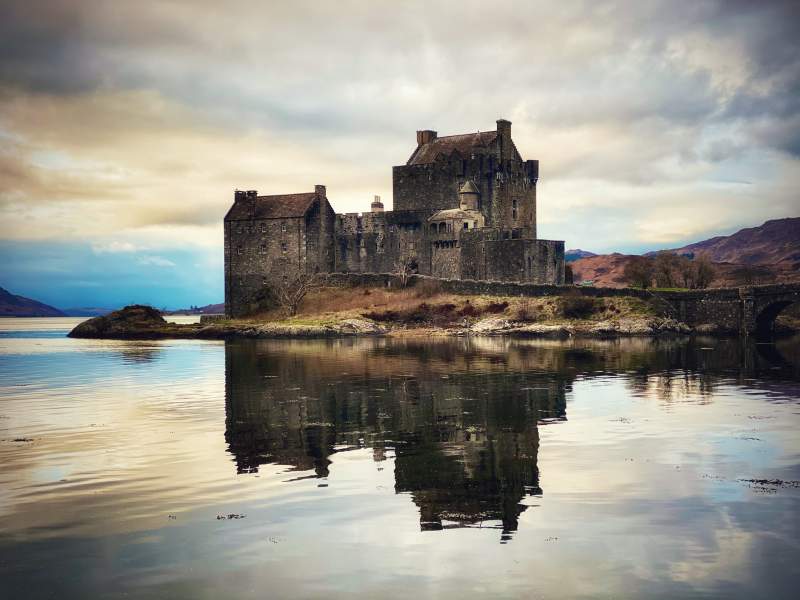 Orkney
What do you think of when you think of Orkney - is it an abundance of world class food and drink? Or ancient stone circles, burial tombs, and settlements, like The Ring of Brodgar, Maeshowe and Skara Brae?
Maybe the romance and intricacy of the Italian Chapel has grabbed your attention, or you'd like to see the famous Churchill Barriers. Or you have a hankering to wander the cobbled, winding streets that inspired poet and writer George Mackay Brown?
It sounds impossible, but you can experience nearly all of these on a day trip from Inverness. With an early start from Inverness, your journey will take you through the spectacular north east 'leg' of the North Coast 500 to catch a ferry across the Pentland Firth, from iconic John O'Groats to the pretty village of St Margaret's Hope. It's an astonishing, unforgettable day out.
Make sure you pick up some Orkney Fudge - you might need the sugar-burst to keep you going!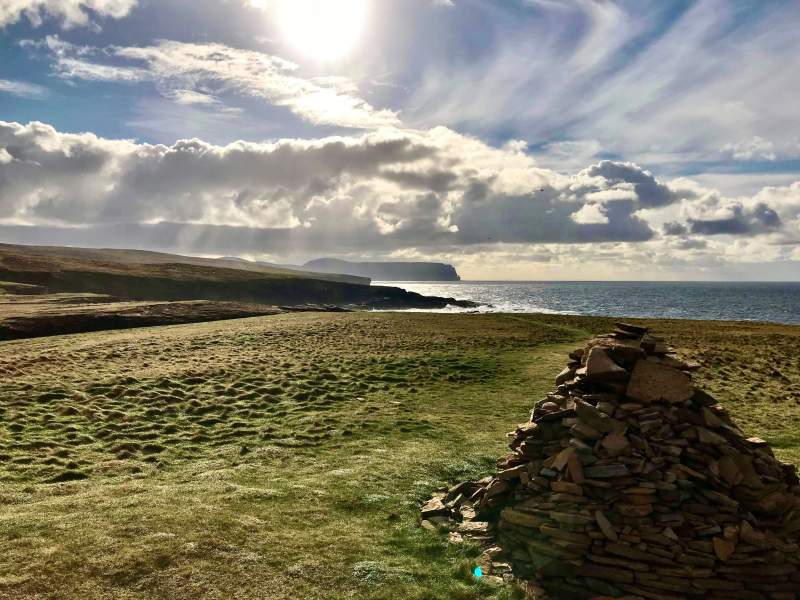 Assynt Mountains and Knockan Crag
There's a saying that the Norse Gods practiced making mountains in Assynt, an astonishing rural landscape north of Ullapool. Drive about 20-minutes north of the pretty fishing port, itself an hour north of Inverness, you begin to see why. The hills are relatively small, but shapely, and enjoy perhaps the greatest reward-to-effort ratio of any mountains I have ever climbed.
Assynt was my playground during childhood holidays, and I could name those mountains in my sleep; Suilven and Stac Pollaidh, Culmor and Culbeg, Canisp, Ben More Assynt, and Quinag. I've summited them all, and I never tire of their views and the feeling they give of being on top of the world.
To understand the geology of this remarkable landscape, which is part of a UNESCO Geopark, a visit to Knockan Crag Nature Reserve is a must. There, the 3-billion year-old history of the landscape is explained. Marked trails, dotted with imaginative artworks, take you back in time and take your breath away.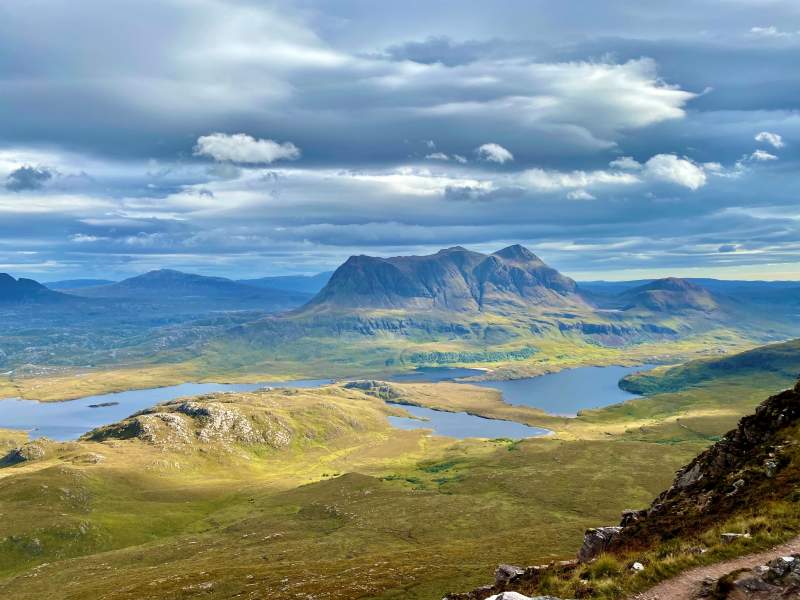 It's not that we don't want you to spend all your leisure-time in Inverness, more that we want you to discover how lovely our neighbours are too. So, use Inverness and Loch Ness as your base. Day trips are optional, but we know you'll be spoiled for choice.

For more Inverness and Loch Ness inspiration, head over to our discovery hub for all the blogs and articles on everything there is to see and do and what not to miss!