BID Renewal Ballot 2024
Visit Inverness Loch Ness Third Term Renewal Ballot from 1st April 2024 – 31st March 2029
What is a Business Improvement District (BID) and why is it important?
A BID is a defined area in which a levy is charged on all business rates payers that meet the sector and property rateable value criteria. Once this is determined, the businesses that are liable to pay are consulted to create an agreed five-year business plan, with specific objectives, governance, and reporting. During the 2019 – 2024 Business Plan, every £1 invested by business members became £2.36 invested within the area by leveraging additional funding.
What type of organisation is Visit Inverness Loch Ness and who does it represent?
Starting in 2014, Visit Inverness Loch Ness is a Tourism BID, sometimes referred to as a TBID, that operates as a not-for-profit in the interests of its members, communities, visitors and stakeholders. The organisation represents almost 430 levy payers, and a further 70 opt-in members from tourism businesses. We aim to create a stronger more sustainable destination for our business members, communities, and visitors from around the world.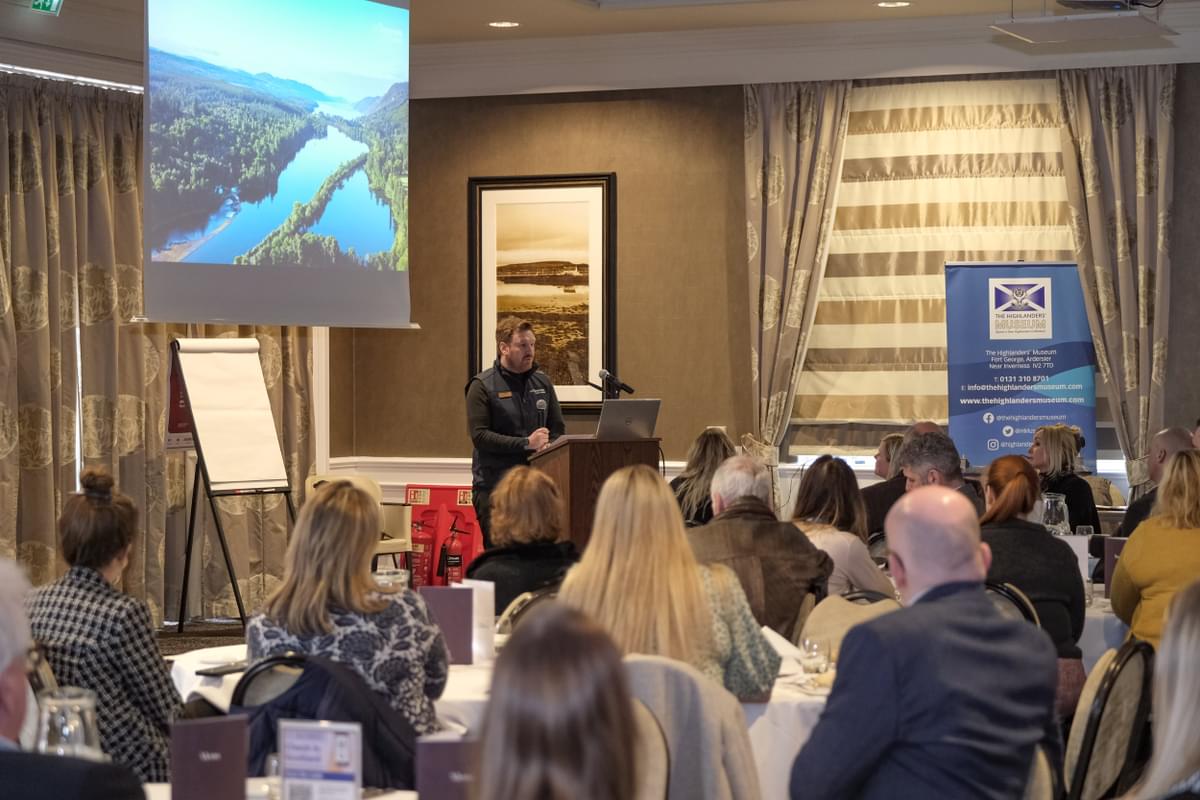 Who is involved in Visit Inverness Loch Ness?
There are six members of the Visit Inverness and Loch Ness team, and twelve company directors.
You can see all our team and board members on our Team and Board page
What area does Visit Inverness Loch Ness represent?
The organisation represents an area totalling 1200 square miles, including more than 40 communities.

What has Visit Inverness Loch Ness done since 2019 and what is the plan for 2024 - 2029?
You can learn more about this in our next steps document which will be uploaded shortly. It summarises the activity from the current five year term, and shows the feedback of consulted businesses for what they would like to see for the next five years.
What is a ballot and how does the vote work?
Visit Inverness Loch Ness goes to ballot from February to the 14th of March 2024.
Levy payers will be consulted throughout a twelve-month period leading up to the ballot. From this consultation, a business plan will be created for the members to vote on. To pass the ballot more than 25% of the levy payers must vote – by quantity and by the total rateable value, and of these votes there must be a majority in favour for both criteria.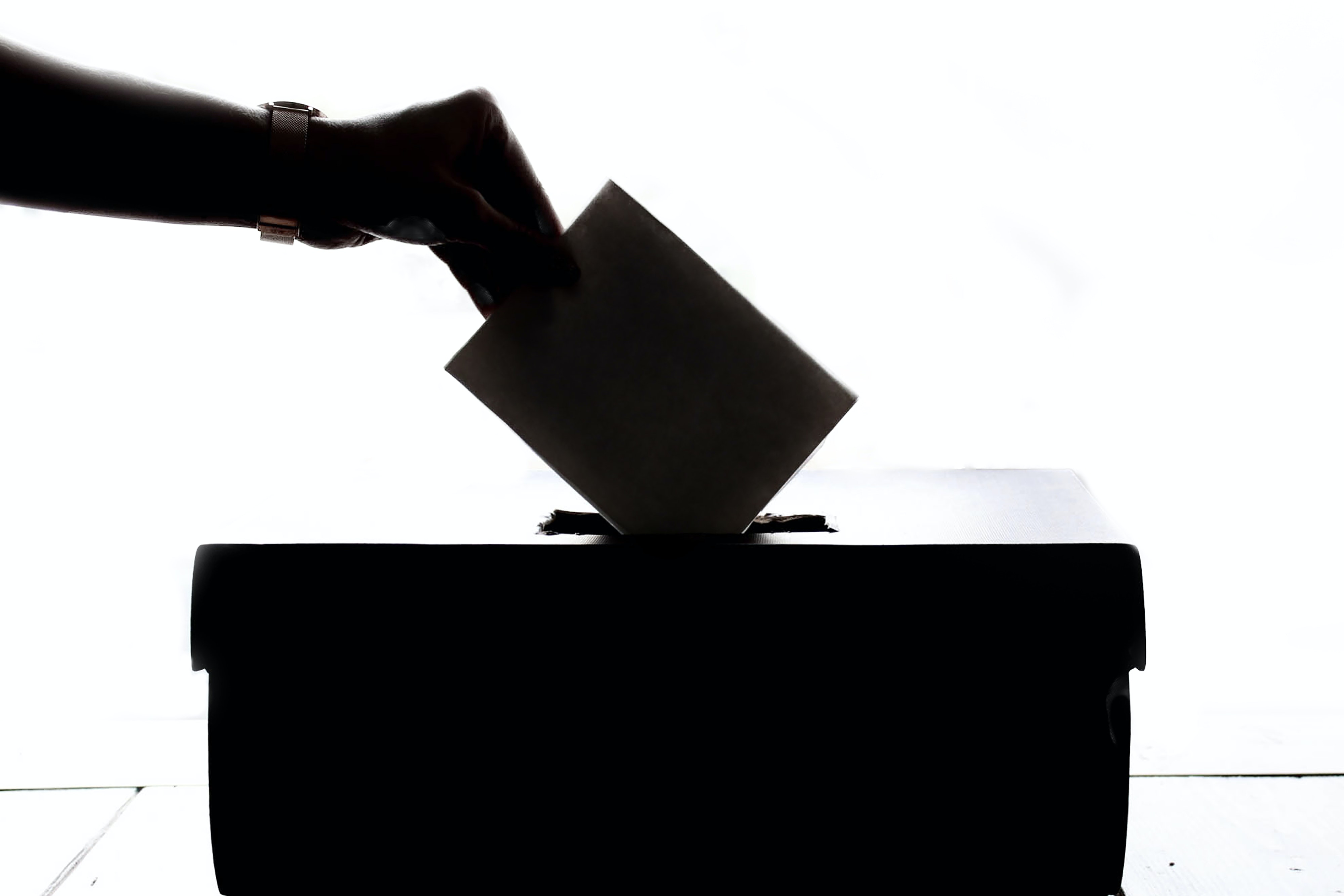 What happens during the ballot process and what opportunities are there to get involved?
2023
A survey was issued asking members to feedback on the current term, share their priorities and identify areas of focus from 2024 - 2029
The survey closed and the results were compiled
The findings were presented to members at an event at the Drumossie Hotel on Wednesday 3rd of May. Consultation were held with everyone in attendance for further feedback and comments.
Next Steps report created - See below for images or to open a PDF version - This document will also be posted to all levy paying members.
View Next Steps Document online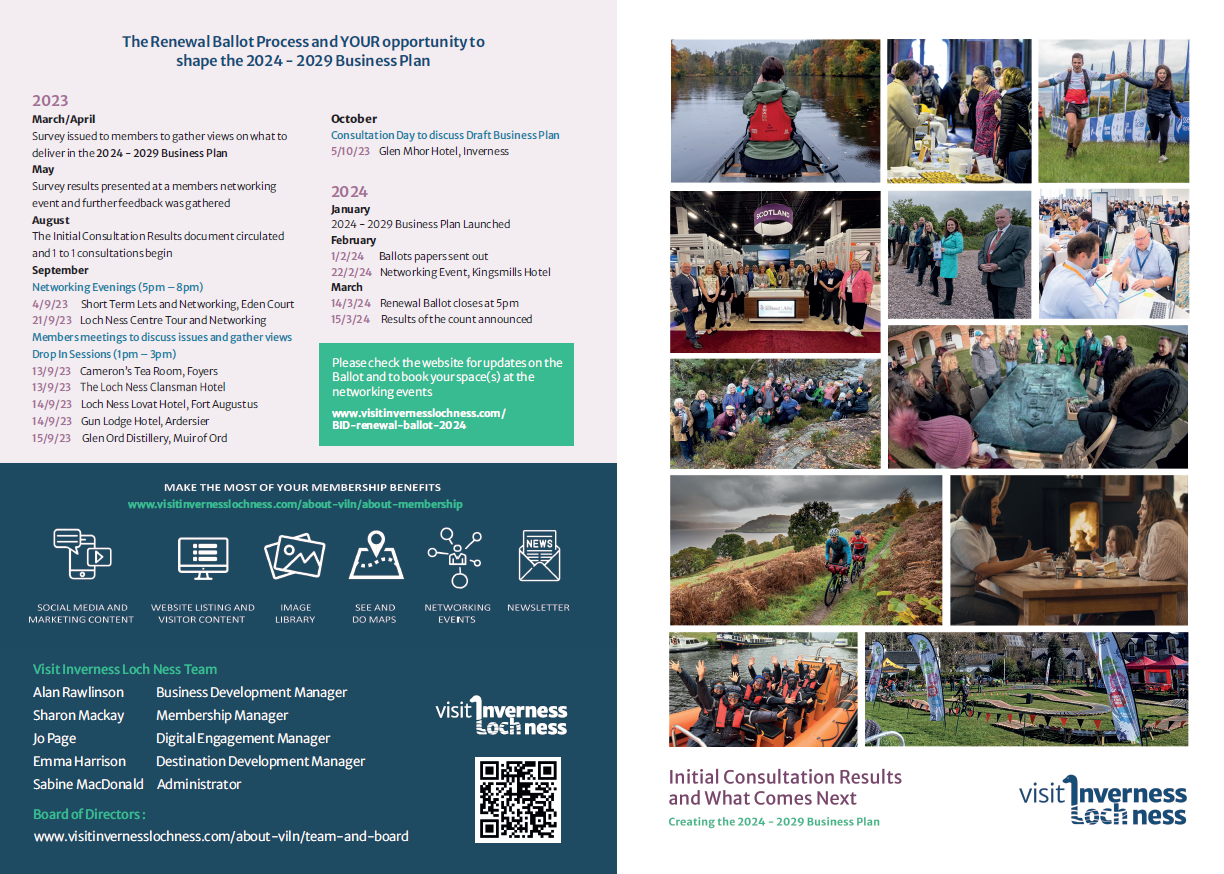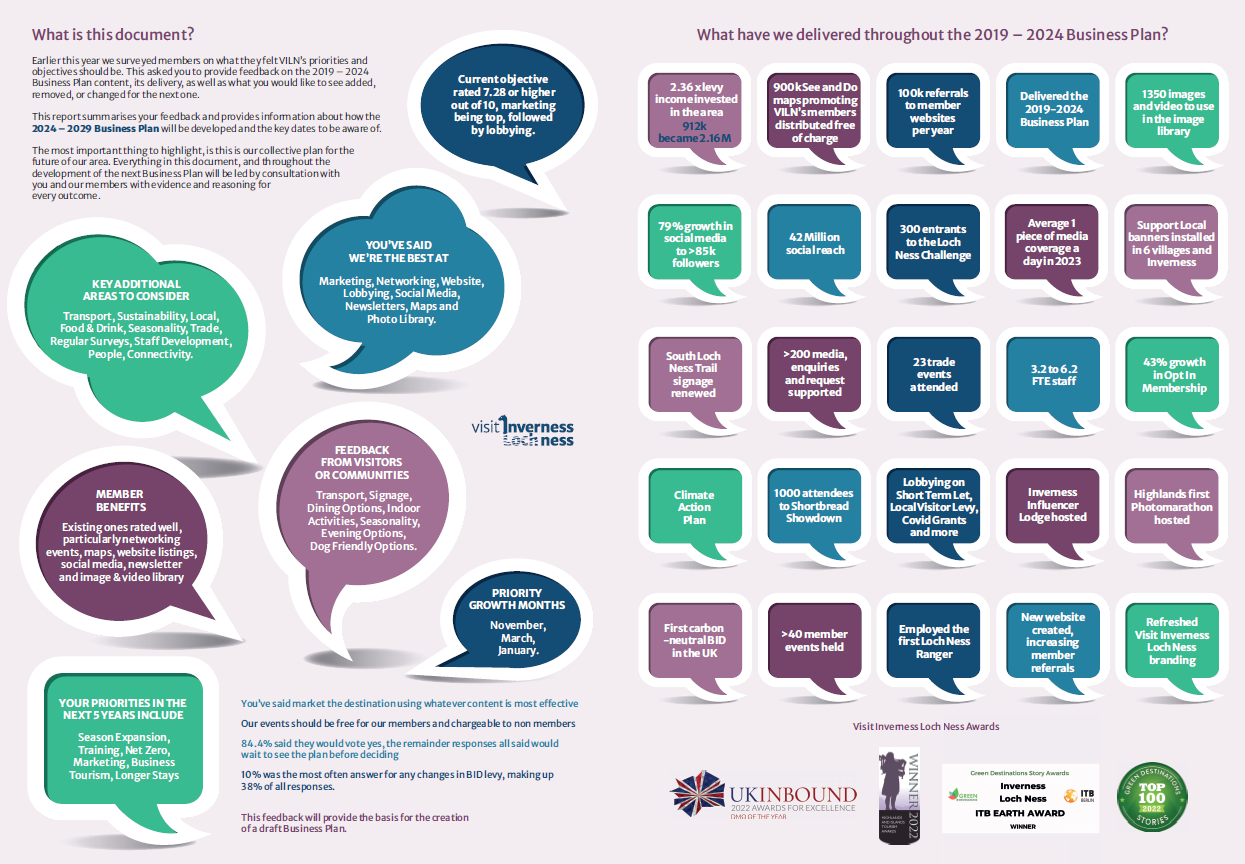 July – End September
Consultation including online meetings, local in person meetings and networking events.
4th September - Short Term Lets and Networking, Eden Court
21st September- Loch Ness Centre Tour and Networking
Members meetings to discuss issues and gather views
Drop In Sessions (1pm – 3pm)
13th September- Cameron's Tea Room, Foyers
13th September - The Clansman Hotel, Drumnadrochit
14th September - Loch Ness Lovat Hotel, Fort Augustus
14th September - Gun Lodge Hotel, Ardersier
15th September - Glen Ord Distillery, Muir of Ord
5th October - Members' Consultation Day & Networking, Glen Mhor Hotel - Sign up here to attend
First draft of the new Business Plan 2024 – 2029
2024
Business Plan officially finalised and launched
Ballot opens
22nd Feb 2024 Networking Event, Kingsmills Hotel
Ballot closes 14th, results announced on the 15th
How can I get in touch to find out more and share my feedback for the next business plan?
Please contact us using admin@visitiln.com and let us know what you would like to talk about so we can arrange a call or meeting with the most relevant member of our team.